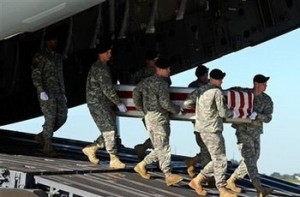 A British soldier and an American GI have been killed in separate explosions in southern Afghanistan, where international forces are struggling with rising militancy.
Britain's Defense Ministry said in a statement on Saturday that a trooper on foot patrol in the Nad-e Ali area of Helmand province was killed in an explosion.
This brings the total number of British troops killed in Afghanistan since the 2001 US-led invasion to 240.
Meanwhile, a US soldier lost his life to an improvised explosive device (IED) in southern Afghanistan.
IEDs are widely used by militants in their campaign against US-led troops across the war-torn country.
This year alone, almost 500 foreign troops have lost their lives in Afghanistan, with Americans accounting for more than 300 of the casualties.
The United States currently commands 113,000 American and other foreign troops in Afghanistan and plans to deploy another 30,000 forces in the violence-ravaged country.