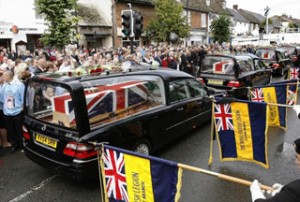 A roadside bomb explosion has killed a British soldier in the troubled southern Afghanistan, bringing to 211 the overall British fatalities in the war-ravaged country.
The British Ministry of Defense said Thursday that the soldier was killed after his vehicle was struck by an explosion in southern Helmand province.
A Spokesman for the British Task Force in Helmand confirmed the incident, saying the armed forces were "deeply saddened by the death of this brave soldier."
The insurgency has intensified in the eastern and southern provinces where the foreign troops have lost several grounds to the Taliban-linked militants over the past months.
There are currently more than 100,000 international soldiers in Afghanistan.
The US-led force lost 77 more troops there during August, setting a new monthly casualty record since the occupation began in 2001.