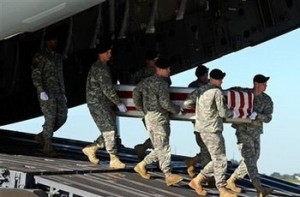 Another US-led soldier has lost his life in southern Afghanistan, NATO's International Security Assistance Force (ISAF) says.
"An ISAF service member died from small-arms fire in southern Afghanistan yesterday," ISAF said in a statement on Monday.
The US-led forces along with Afghan soldiers are taking part in a joint offensive, called "Operation Moshtarak," in the Marjah and Nad Ali districts of Helmand province.
The deaths of seven foreign soldiers have been reported in Afghanistan since the operation was launched before dawn on Saturday.
Four of the casualties are from the US and two are from Britain. The latest has yet to be identified.
The new offensive came weeks after the US-backed government of Afghan President Hamid Karzai offered reconciliation with members of the Taliban.
However, the Taliban rejected the offer, saying that Karzai's peace offer is due to the militants' spreading influence.