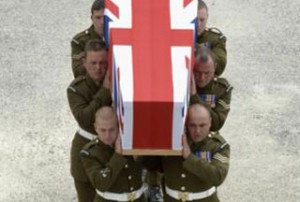 Another British soldier has been killed in the southern Afghan province of Helmand, taking the total number of the UK troop fatalities to 231 in the Afghan war.
The British soldier was killed in an explosion in central Helmand on late Saturday, Britain's Defense Ministry said on Sunday.
The rising number of UK military service members' deaths in action has sparked controversies in the country over the future of the so-called war on terror in Afghanistan.
Britain has committed around 9,500 soldiers to the war zone in an attempt to curb the ongoing militancy in Afghanistan.
The latest casualty brings the total number of British forces who have died in Afghanistan to 231 during one of the deadliest weeks in the country.