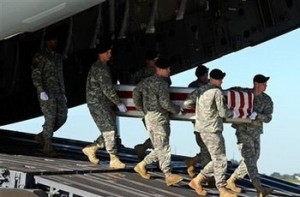 The United States military says another American soldier has lost his life due to non-combat injuries in conflict-stricken Iraq.
"A Multi-National Division-Baghdad soldier died Dec. 10, of non-combat related injuries," according to a US military statement issued on Thursday.
The United States military also announced that the incident is currently under investigation. The name of the deceased is being withheld pending notification of the next of kin.
This marks the first fatality among American troopers in war-ravaged Iraq this month. The death also brings to 147 the number of US soldiers killed so far this year in Iraq. The American army has lost 4,368 soldiers since March 2003, when Washington unleashed the US-led invasion of Iraq.
A total of 314 US troopers lost their lives in 2008. The preceding year, 2007, nonetheless remains the deadliest year the American military has seen, with a death toll of 904.
This is while the United States Army sustained a loss of 822 servicemen in 2006, and 846 in 2005. As many as 849 soldiers were also killed in 2004 and 486 others lost their lives in 2003.
More than one million Iraqis have died because of the war since the US-led invasion of the country in 2003, according to data compiled by London-based Opinion Research Business (ORB) and its research partner in Iraq — the Independent Institute for Administration and Civil Society Studies (IIACSS).
Moreover, a fifth of all Iraqi households have lost at least one family member to the conflict. The United Nations estimates the number of displaced people from the March 2003 Iraq invasion at more than four million. Nearly half of the number have fled to neighboring countries, particularly Syria.