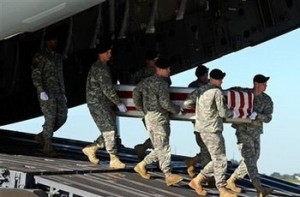 Another US trooper has died in an alleged bomb explosion south of Afghanistan, say the forces under the American command.
The International Security Assistance Force (ISAF) reported the Tuesday incident, claiming that the troop had fallen as a result of an improvised-explosive device going off.
The United States currently commands 113,000 American and other foreign troops in Afghanistan and plans to deploy another 30,000 forces to the war-torn country.
The violence, however, has reached its high water mark this year, taking further toll on the Afghan populace which has already lost many thousands to the so-called counter-insurgency mission.
The war, on the other hand, has cost the lives of 935 US and 604 foreign troopers.
The Chairman of the Joint US Chiefs of Staff (CJCS), Admiral Mike Mullen on Monday warned of more violence ahead, saying "I told our troops heading here to steel themselves for more combat and more casualties."