Middle East
Saudi Arabia
Yemen
Ansarullah: Aggressors not to be safe from strikes if bombings continue
A member of Yemen's Supreme Political Council says army forces and their allied fighters from Popular Committees will continue to carry out drone and missile attacks deep inside Saudi Arabia and its regional allies as long as they press ahead with their aggression.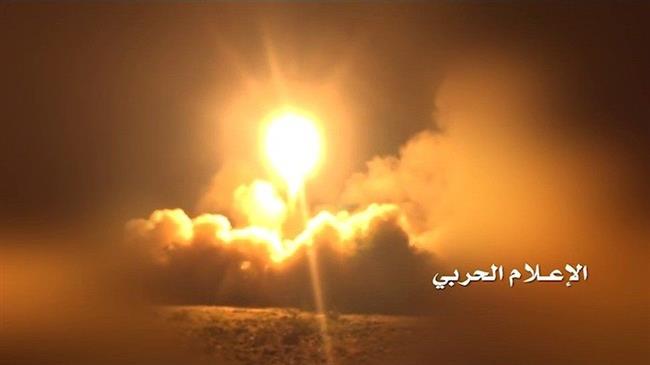 "Once the Saudi-led coalition takes a decisive action to stop its bombardment campaign against Yemen, attacks against members of the alliance will cease in return," Lebanon-based al-Mayadeen television quoted Mohammed Ali al-Houthi as saying on Saturday evening.
"We are ready to stop bombing the other side if the bombardment of Yemen discontinues. Up until now, Yemen's bombardment has continued by means of US-, British- and European-made warplanes and clashes are still in progress," he said.
"We reiterate that drone and missile attacks on aggressor countries will stop in case they cease their assaults; otherwise the aggressors will not be safe from Yemeni attacks as long as the bombing of Yemen continues."
The remarks came hours after Yemeni armed forces launched a fresh retaliatory attack against Saudi Arabia, targeting Abha International Airport in southwestern region of Asir by a domestically-manufactured Sammad-3 (Invincible-3) combat drone.
The spokesman for Yemeni Armed Forces, Brigadier General Yahya Saree, said the unmanned aerial vehicle struck the designated targets with great precision.
The airstrike, he said, came in retaliation for the Saudi-led coalition's military onslaught, its raids as well as the continued siege of Yemen.
'Stop aggression, siege on Yemen to let peace prevail'
Meanwhile, the spokesman for Yemen's popular Ansarullah movement stressed the need for an end to the Saudi aggression as well as the lifting of the crippling blockade on Yemen.
"We have repeatedly stated that our military operations are entirely defensive, and will continue until the onslaught comes to an end and the siege is lifted," Mohammed Abdul-Salam was quoted as saying by the Arabic-language al-Masirah television network.
He added that any statement, no matter how positive it might be, is meaningless as long as no practical step is taken to establish peace.
"Stop the aggression and lift the siege against Yemeni people so that lasting peace can be established," Abdul-Salam pointed out.
'US intention to end Yemen war open to doubt'
Separately, a senior Yemeni official cast doubt on the purported intention of the administration of US President Joe Biden to end the war on Yemen, demanding that the Yemeni nation's resistance in the face of the Saudi-led aggression and siege continue.
"The United States is seeking to lessen international hatred towards itself at the same time as building up pressure on Yemeni people through a blockade. The Yemeni nation is fairly familiar with such a ploy and trusts in God," Yemeni Information Minister Dhaifallah al-Shami said.
US Secretary of State Antony Blinken announced in a statement on Friday that he was removing Yemen's Ansarullah movement from the list of foreign terrorist organizations as of Tuesday, February 16.
The Trump administration added Yemen to the list on its last full day in office despite warnings by aid groups, the United Nations and other governments that the move could push Yemen into a major famine.
Saudi Arabia and a number of its regional allies launched the war on Yemen in March 2015, with the goal of bringing the government of former president, Abd Rabbuh Mansur Hadi, back to power and crushing the popular Ansarullah movement.
According to the UN, 80 percent of Yemen's 30 million people need some form of aid or protection. About 13.5 million Yemenis currently face acute food insecurity, UN data shows.
Ansarullah, backed by the Yemeni armed forces and allied popular groups, has gone from strength to strength against the Saudi-led invaders, and successfully defended Yemen against the aggression, leaving Riyadh and its allies bogged down in the county.