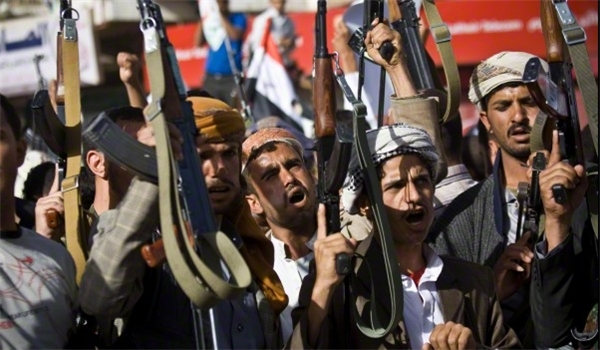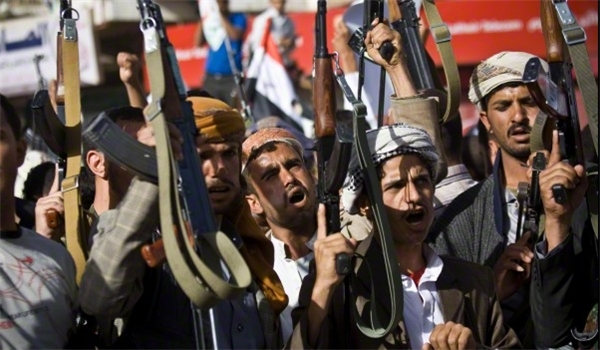 A senior commander of Ansarullah announced that the revolutionary movement is ready to attack the positions of the Bahraini forces who are stationed in Saudi Arabia's Jizan near the borders with Yemen.
"Ansarullah's special forces are fully prepared to soon launch extensive attacks on the Bahraini forces' military base in Jizan in Southern Saudi Arabia," Abu Ali Al-Sadeh told FNA on Wednesday.
He, meantime, pointed to Ansarullah's military gains, and said, "The Ansarullah fighters managed to fully seize back five districts in Western Sana'a from terrorists and killed tens of ISIL, Al-Qaeda and pro-Hadi forces in heavy clashes."
On Monday, a senior Ansarullah leader disclosed that the revolutionary movement has foiled the terrorists' bombing plot to destroy Sana'a Grand Mosque by several bomb-laden cars parked in front of it.
"The Ansarullah fighters have defused several bombs planted in a number of cars parked in front of Sana'a Grand Mosque," Qassem Ahmad told FNA.
He, meantime, noted that Ansarullah has intelligence which indicates that pro-Hadi militants had cooperated with the ISIL in the recent bombing of Qobe al-Mehdi mosque which left three people dead and several others wounded.
On Sunday, Ansarullah forces shot down a surveillance drone sent by the Saudi army to spy on the bordering areas.
According to Yemenpost newspaper, Ansarullah targeted and destroyed the drone at the bordering region of Sahar.
There are yet no images of the downed drone and the Saudis have yet to show reaction to the report.
Also early May, Yemen's Ansarullah fighters captured a Saudi surveillance drone in the Northwestern Yemeni province of Sa'ada.
Saudi Arabia has been striking Yemen for 91 days now to restore power to fugitive president Mansour Hadi, a close ally of Riyadh.
Hadi stepped down in January and refused to reconsider the decision despite calls by Ansarullah revolutionaries of the Houthi movement.
Despite Riyadh's claims that it is bombing the positions of the Ansarullah fighters, Saudi warplanes are flattening residential areas and civilian infrastructures.
The Monarchy's attacks have so far claimed the lives of at least 4,717 civilians, mostly women and children.