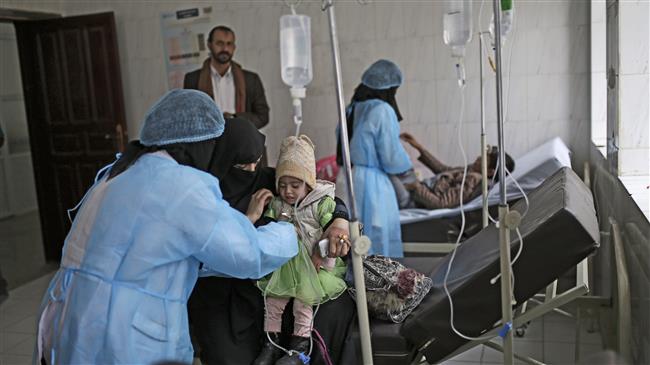 Yemen's Houthi Ansarullah movement says the Saudi-led coalition of aggressors — which has imposed an all-out blockade on the war-torn country — will be responsible for the possible spread to Yemen of a coronavirus that is plaguing many world states.
Mohammed Ali al-Houthi, the chairman of the Supreme Revolutionary Committee of Yemen, said Monday that the aggressors in the occupied Yemeni territories deliberately ignore precautionary measures that should be taken to prevent the spread of the virus that has infected and killed tens of thousands of people across the globe, Yemen's al-Masirah reported.
He censured the Saudi regime and its coalition allies for allowing flights into the areas under their occupation at a time when many world states have suspended all flights to contain the pandemic.
Allowing four commercial planes to reach Yemen with a total of 1,000 passengers amid the pandemic is a dirty US-Saudi aggression tactic, he said.
He said those who have been killing the Yemenis with their weapons do not hesitate to take their lives through less costly means.
The US-Saudi coalition is responsible for the consequences, al-Houthi said.
In addition to the siege and the massacre of Yemeni citizens, he added, the aggressors are blocking international humanitarian aid delivery to the war-wracked country.
As of March 16, the virus has infected nearly 183,000 people worldwide and killed more than 7,165 others, according to Reuters tallies.
50,000 children die every year in Yemen: Ansarullah
The Ansaruallh movement says the years-long Saudi-led war and blockade against Yemen has fueled famine and disease, resulting in the deaths of 50,000 children annually.
Saudi Arabia and its allies launched a deadly military aggression against Yemen in an attempt to reinstall a Riyadh-backed former regime and eliminate the Houthi movement, which has been defending the country along with the armed forces.
The Western-backed offensive, coupled with the blockade, has destroyed the country's infrastructure.
In particular, the closure of the airport in the Yemeni capital of Sana'a has made it impossible for food and medical supplies to reach the poor.
The aggression has also led to the world's worst humanitarian crisis in Yemen, where over 1,000 people, including many kids, were killed and hundreds of thousands afflicted by cholera, diphtheria, measles and dengue fever in 2019, according to the World Health Organization.