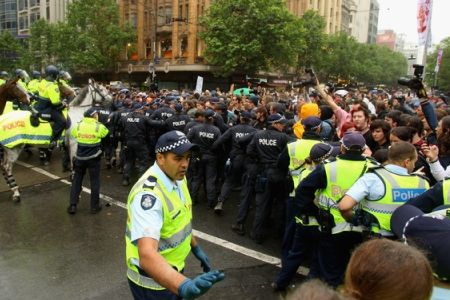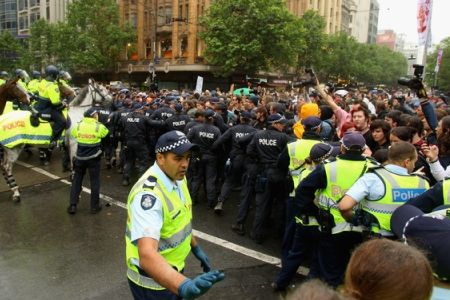 Riot police broke up week-long anti-capitalism protests in Sydney on Sunday, with demonstrators saying they were forcibly evicted from their city campsite in violent dawn raids.
Police said 40 people were arrested after resisting orders to pack up their shelters in front of the Reserve Bank of Australia, where they have been holding peaceful protests since last Saturday as part of the Occupy Movement, a global movement against Capitalism.
Group spokesman Tim Frank said police deliberately swooped while they were sleeping and there were violent scenes when they linked arms and refused to go, with television footage of the raid showing bloodied and bruised faces.
"Seeing people who have been peaceful for eight days, crying and screaming in pain after they were woken up out of their sleep — it doesn't make any sense," Frank told ABC Radio.
Of those arrested 29 were issued with fines for breaching council regulations and seven will face court on similar charges, with four charged with assaulting police.
Similar clashes between Occupy activists and police in Melbourne on Friday ended with 20 arrests and the injury of two police officers.