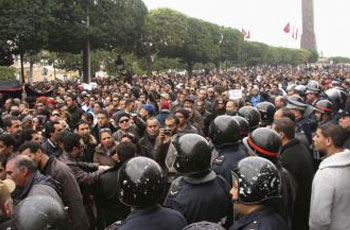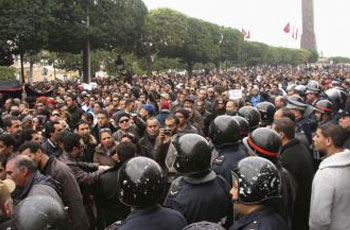 Protests against the rule of President Ali Abdullah Saleh spread across Yemen on Wednesday with hundreds of people taking to the streets of Sanaa, Aden and Taiz.
In the capital Sanaa, at least 800 protesters marched through the streets near Sanaa University despite police efforts to break up the demonstration.
"We're no weaker than Tunisians and Egyptians, and our situation is worse than theirs," said Rafea Abdullah, a Sanaa University student.
Saleh, a U.S. ally, has ruled the poor and fractious Arabian Peninsula State for more than 30 years.
The threat of turmoil in Yemen pushed Saleh to say he would step down in 2013 and call for a national dialogue.
But anti-government protests have continued for the past six days, despite often violent clashes with government loyalists.
Four people wounded in the melee. After locking student protesters inside the campus, police fired shots in the air to break up the protestors.
Students later left the campus to join hundreds of anti-government protesters in the streets.
At least thousands people rallied in the agro-industrial city Taiz, south of Sanaa, and the same population of protesters had gathered in the southern port town of Aden.
"No more marginalisation of the people of Aden! No more corruption and oppression," chanted protesters there.
Most demonstrators were from among the unemployed youth in Yemen, where the jobless rate is at least 35 percent.
Of the 23 million people in Yemen, which is teetering on the brink of collapse into a failed state, 40 percent live on less than $2 a day and a third suffer chronic hunger.
Jobs are scarce, corruption is rife, and the population is expanding rapidly as oil and water resources are drying up.
Protests over the past week have been smaller than in preceding weeks, when tens of thousands of demonstrators took to the streets, but demonstrators have become more strident in calling for Saleh's resignation.
"We'll keep protesting until the regime leaves," said Murad Mohammed adding,"We have no future under current conditions."