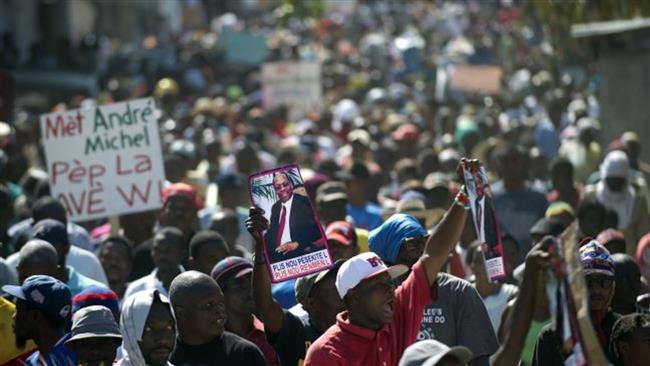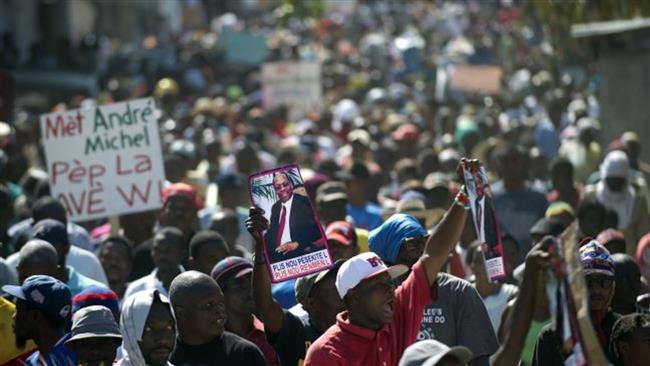 People have taken to the streets in the Haitian capital, Port-au-Prince, calling for the resignation of President Michel Martelly.
According to reports, a couple of thousand people, including members of opposition groups, participated in the protest rally, which was held after the Caribbean country installed a new Provisional Electoral Council (CEP).
The nine-member body, sworn in on Friday at a ceremony led by Prime Minister Evans Paul, will be in charge of holding delayed legislative and municipal elections in the country this year.
The elections had to be held by a January 12 deadline; however, as the vote was not held, the country's parliament was dissolved. Following the parliament's dissolution, Martelly began ruling by decree as the terms of lawmakers had expired.
Opposition politicians have been accusing Martelly of clinging on to power.
On January 16, Haitian police forces clashed with anti-government demonstrators in Port-au-Prince. The police used teargas and fired rubber bullets to disperse the protesters, who were hurling rocks at them.
"Since Mr. Martelly came to power, they have been stealing all the reserves of the government… Martelly took everything," said opposition member Calistin Jhonny during the protest.
The president took office in May 2011 and is due to leave next year.
During a speech on January 17, Martelly took responsibility for the nation's political turmoil.
Late on January 17, Evans Paul, a political opponent of Martelly, was sworn in as the new prime minister. Paul was chosen following last month's resignation of former Prime Minister Laurent Lamothe.