Europe
Anti-govt. protesters seize Ukraine Justice Ministry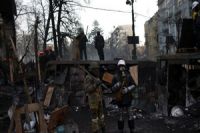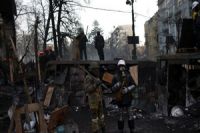 A number of anti-government protesters have seized Ukraine's Justice Ministry, erecting barricades outside the building with rubbish containers.
On Sunday, the protesters commandeered the building in the capital Kiev and appeared to encounter no resistance, AFP reported.
Tensions remain high in Kiev as talks between the opposition and Ukrainian President Viktor Yanukovych have stalled.
On Sunday, the opposition said a compromise deal offered by the president was not enough to end the country's crisis.
Late Saturday, Yanukovych offered the opposition posts in government including that of prime minister.
Meanwhile, thousands of protesters packed Saint Michael's Cathedral in the capital on Sunday to pay their last respects to Mikhail Zhiznevsky, a young man who was shot dead during anti-government rallies in Kiev on Wednesday.
Ukrainian officials have confirmed that Zhiznevsky died of gunshot wounds. The security forces, however, have denied firing on protesters.
Anti-government protesters also ousted special police forces from a flashpoint building which was used by security forces as a base.
The Interior Ministry confirmed the taking over of the Ukrainian House, an exhibition hall used by troops as a base, in central Kiev, saying the forces showed restraint and withdrew to avoid further tension.
"The ministry's leadership decided to withdraw the reserve unit of security forces from the building," the ministry said in a statement.
Opposition leader Vitali Klitschko, who was present at the scene, also confirmed the building had been seized.
"The task has been accomplished. The Ukrainian House has been taken without bloodshed," he said, adding that the protesters do not plan to use the building but will guard it so that police cannot return.
Ukraine has been rocked by anti-government protests since Yanukovych refrained from signing the Association Agreement with the European Union at the third Eastern Partnership Summit in the Lithuanian capital, Vilnius, on November 29, 2013.
Kiev refused to sign the agreement after EU leaders called on Ukraine to allow jailed opposition leader Yulia Tymoshenko to travel overseas for medical treatment.