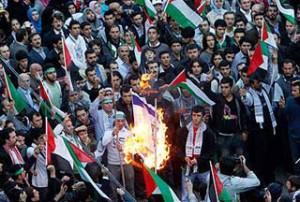 The Middle East sees more demonstrations as Muslims join hands to voice protest against Israeli violations in Palestine, despite a policy of silence adopted by their governments.
Crowds of Palestinian refugees staged a demonstration in southern Damascus late on Friday to protest Tel Aviv's refusal to heed international calls to halt its illegal settlement construction work in occupied East Jerusalem (al-Quds).
Waving Palestinian flags, carrying placards and chanting anti-Israeli slogans, protestors on Friday criticized the Arab world and the international community for failing to free their land after some 60 years of Israeli occupation.
Similar demonstrations have been held in support for al-Quds and the al-Aqsa Mosque in the Gaza Strip, Lebanon, Turkey, Bahrain, Saudi Arabia and several other Muslim nations.
Angry protesters also condemned the reopening of a synagogue not far from the al-Aqsa Mosque — the third foremost Islamic sanctity — in the Old City in East al-Quds.
Tel Aviv's recent green light for 1,600 new settlement units in East al-Quds and the controversial rededication of the Hurva synagogue short after the confiscation of two holy shrines in the West Bank has sparked a large wave of protests across the Muslim world.
The decision also prompted warnings from Palestinian politicians and Muslim leaders who expressed grave concerns that the violations could serve as a prelude to a full "Judaization" of East al-Quds, long demanded by Palestinians as the capital of their future state.
Analysts, however, believe popular demonstrations are the minimum that could be done against the Israeli occupation in Palestine.
They insist that it is not enough for the Palestinians to be the only objecting force, calling for a firm stance from Arab governments and Muslims across the globe.