Human Rights
Middle East
Palestine
Anti-racism chief in 'israel' sheds light on police profiling of Ethiopian Jews
The head of Israel's top anti-racism body has taken the wraps off discrimination in the Occupied Territories, stating that security forces have not actually taken any concrete measures in order to combat systemic racism.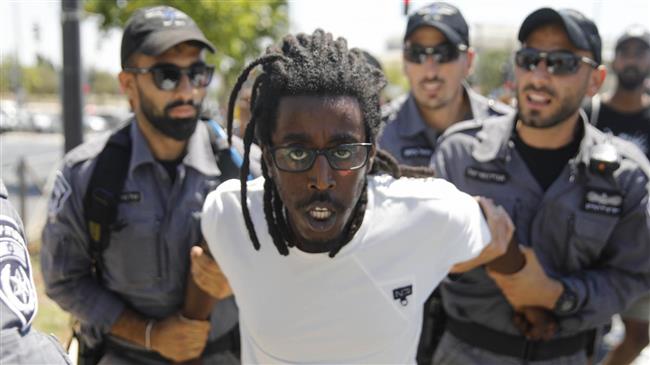 Speaking in an exclusive interview with English-language the Times of Israel online newspaper published on Thursday, Aweke Kobi Zena said he hoped the regime's law enforcement officials would improve their cooperation with him and his team as he described his relationship with police as "very complicated."
"Yehuda Biadga is dead and Solomon Tekah is dead and this year we saw a lot of, I don't want to say racist, but interactions with police and citizens [involving] violating rights, so I think we have a lot of things to do and I hope that someday the police will be ready to understand there is a problem in policing practices."
The official highlighted that he wanted Israeli police to treat all people in the occupied lands equally, and "to understand that their job is to serve the citizens, to defend their rights" and to end racial profiling.
"They are saying that they are not doing profiling," yet Ethiopian citizens are still arrested at a disproportionate rate, he said.
Israeli immigrant absorption minister Pnina Tamano-Shata, the first woman from the Ethiopian community to serve in the Israeli cabinet, also echoed Zena's concerns and called on acting police chief Motti Cohen and public security minister Amir Ohana to "wake up" and start sacking racist officers.
She said she planned to ensure the matter stays on the agenda of relevant authorities.
Deputy minister of public security Gadi Yevarkan, himself the child of Ethiopian immigrants, has reinforced his battle against Israeli police brutality.
He has proposed a legislation to dismantle Israel's internal affairs and replace it with a new agency under the auspices of the so-called justice ministry.
"This is one of the most racist, cruel and deadly events ever recorded. The case proves again that racism is a lethal weapon. … Police violence against blacks is a plague, with many countries around the world fighting against it.
"One thing people must know is that white citizens of Israel feel safe when there is a police car in the neighborhood, while black citizens of Israel do not feel safe at all," Yevarkan wrote on his Facebook page after the May 25 killing of George Floyd, an African-American man who died in police custody after a police officer in Minneapolis kneeled on his neck for several minutes. His death sparked worldwide protests.
According to a recent report by Israel's national anti-racism unit, the number of complaints of racial discrimination it received doubled last year. A total of 37 percent of such charges came from the Ethiopian community.
The report noted that while Ethiopian Jews comprise 1.7% of the population in the occupied territories, their arrest rate stands at 3.27%.