Bahrain
Anti-US Rallies Held in Bahrain despite Police Measures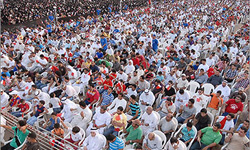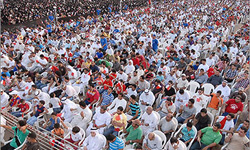 Anti-US rallies were held across Bahrain on Friday even as the country's security forces blocked roads leading to the US embassy.
Thousands of Bahrainis took to the streets in the capital, Manama, and several villages on Friday to condemn a blasphemous movie against Islam which has been produced by an American-Israeli man in the US.
They said those behind the sacrilegious act must be brought to justice.
Meantime, Bahraini security forces have reportedly blocked roads leading to the US embassy.
US missions are on high alert across the Muslim world as anger grows over the insulting movie.
The anti-Islam film has drawn condemnation from numerous countries including Egypt, Libya, Iran, Yemen, Iraq, Afghanistan, Pakistan, Indonesia, Malaysia, Bangladesh, Saudi Arabia, Kuwait, Morocco, Somalia, Sudan, etc.
In Iran, millions of Iranians in Tehran and other cities across the country held nationwide rallies in protest at the recent desecration of Islam.
The Iranian protesters chanted "Death to the US" and "Death to Israel" slogans, expressing disgust at the US and the Zionist regime's anti-Islam policies.