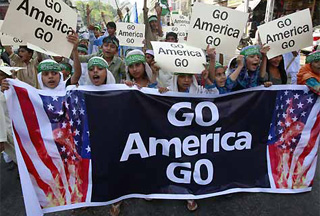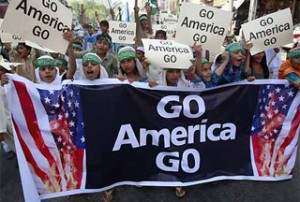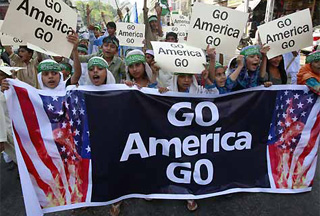 Thousands of supporters of Pakistan's largest religious party have held anti-US rallies in major cities across the country.
Addressing the crowd at the 'Go America Go' rally in Rawalpindi on Sunday, Jamaat-e-Islami (JI) leader Syed Munawar Hassan said the US and its allies were pursuing a military agenda in the region, a Press TV correspondent reported.
He went on to say that the US military operations are undermining Pakistan's sovereignty.
Hundreds of people, many of them civilians, have been killed since 2006 in CIA-operated drone strikes targeting militants in Pakistan.
The demonstrators demanded that the Pakistani government keep a strict eye on Blackwater/Xe and other 'US terrorists' operating in the country.
The ralliers said that the US is trying to create a state of anarchy in the South Asian country in order to provide a pretext to take away its nuclear assets.
JI is running an anti-US campaign and has staged several rallies across the country's major cities over the past month.
Pakistan has experienced a wave of violence over the past two years in which nearly 3,000 people have been killed in bomb attacks and other terrorist operations across the country.