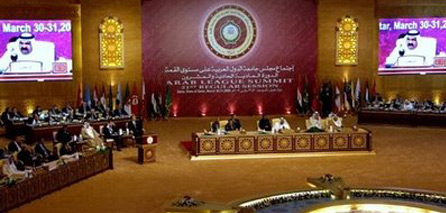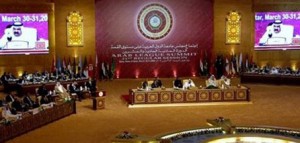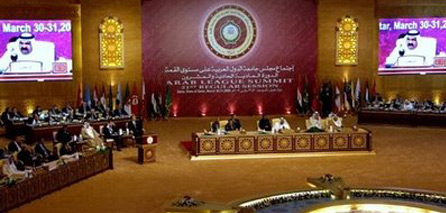 Arab League secretary-general Amr Moussa said there would be "no place" for Zionist entity in the region so long as it considers itself "a state about the law" and "obstructs the peace process."
In his remarks at the summit, Moussa questioned the legitimacy of the peace process, and urged the Arab League to seriously consider declaring it failed. He said negotiations could not remain an open-ended process.
The secretary-general also noted that the international community has rejected Zionist entity's settlement policy and embraced a global approach and consensus on the two-state solution. Palestinians' right to regain their land is not in question, he said. Zionist entity must be held accountable for international treaties on human rights, Moussa added, and stop covering up its nuclear program.
Some of Moussa's harshest language, however, was reserved for the Cairo-based institution, itself, which he said had failed for 20 years to stop "Zionist aggression" in the occupied Palestinian territories.
His criticism was echoed by Emir Hamad bin Khalifa Al-Thani of Qatar, who opened the summit by saying that under his tenure as president, the league has accomplished nothing. There is no progress report to submit, and the state of Arab relations is in crisis, he said.
In his parting recommendations to Muammar Gaddaffi, who will replace Al-Thani as president of the league, the Qatari leader suggested that a committee be established to facilitate communication between Arab leaders.
Al-Thani asked conveners: "Does Jerusalem and Al-Aqsa need condemnations? Are the Arabs convinced that this is all we can do? Or shall we wait for the decisions of the Quartet concerning Palestine? Are we unable to lift the siege imposed on Gaza?"