Middle East
Saudi Arabia
Yemen
Arab Paper: Well-Equipped Saudi Arabia Humiliated by Yemenis' Simple Technology
The Ansarullah movement of Yemen has changed its defense strategy against the Saudi and UAE military aggression to an offensive one relying on low-cost, but highly capable and dangerous technologies that have humiliated Riyadh that is equipped with state-of-the-art weapons systems, a leading Arab newspaper wrote on Tuesday.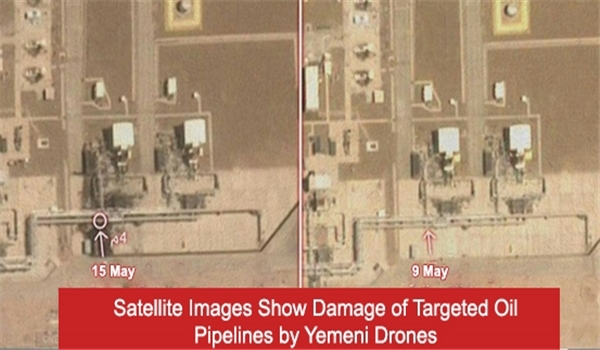 The Arabic-language Al-Quds al-Arabi newspaper wrote that the Yemenis' drone and missile attacks against Saudi Arabia have changed all battlefield equations.
It referred to Ansarullah's statement that it has identified 300 military and vital points in Saudi Arabia and the UAE for impending attacks, noting that the Yemenis have entered a new offensive stage which relies on low-cost and simple technology with a high destructive power.
"The most complicated and advanced defense networks near the Saudi and UAE oil installations which have cost billions of dollars have not been able to intercept the drones and prevent their destructive impacts," the paper underlined.
Satellite imagery revealed the extent of damage to Saudi Arabia's oil facilities in Yemen's drone strikes last Tuesday, which forced the kingdom to stop oil flow in a major pipeline.
Al-Jazeera television network reported on Sunday that the attacks had caused significant damage to Saudi energy giant Aramco's Pump Station 8.
The attack reportedly caused a 4-meter rupture in one of the station's main oil pipes, causing severe leakage over an area of around a thousand square meters.
Yemeni soldiers, backed by allied fighters from Popular Committees, launched the major operation last Tuesday against the strategic oil facility in Saudi Arabia in retaliation for the Riyadh regime's devastating military aggression and siege of the impoverished country. Following the attack, Saudi Arabia stopped pumping crude oil on the major pipeline across the country. The retaliatory attack also led to the rise of oil prices and fall of stock markets in Persian Gulf Arab countries.
The attack bears extra significance at this stage of the war because the Yemeni forces could fly armed drones so far and carry out precision strikes and then fly them back while evading all Saudi defenses on the way. The long-range drones open unlimited possibilities for Yemeni resistance forces, which have already surpassed all expectations by surviving the massive Saudi onslaught and mounted a potent response with an arsenal of ballistic missiles.
Yemen's Ansarullah movement has warned that its recent attack on a major Saudi oil facility was the start of operations against 300 vital targets in Saudi Arabia and the UAE.
The group added that other planned targets include military headquarters and facilities in Saudi Arabia and the United Arab Emirates.