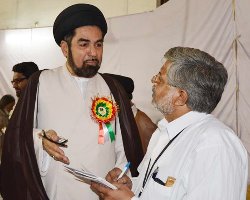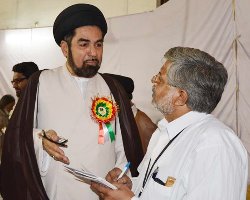 People's uprising against despotic rulers in North Africa, Arab and Persian Gulf countries are inspired by Imam Khomeini's precious ideology, said an eminent Indian religious scholar in New Delhi on Friday.
Talking to IRNA, Maulana Syed Kalbe Jawwad Naqvi, General Secretary of Majlis Ulema-e-Hind said: 'The people's uprising, in the region is the anguish against their despotic rulers who have become tools in the hands of the US led Western powers, are based on the ideology of Imam Khomeini (R.A.) the leader of the Islamic Revolution.'
Elaborating on his statement, Jawwad said that the sapling of Islamic faith, founded by Imam has blossomed and grown up with deep roots. The big powers, in spite of having variety of conspiracies have been
fearing in confronting it.
He further said that the great leader of the century by relying upon faith and without fearing any threats, in an era when religion had weak presence in the society and even was exposed to ignorance, entered the scene and introduced religion as the basis for human lifestyle and founded a state, Islamic Republic of Iran, on the foundation of religion, where discrimination, squandering of national wealth, cruelty, dependence on imperialism and colonialism and injustice has no place.
"He (Imam) has enlightened the Islamic values and reliance on faith in people's heart and has taught to be afraid only Almighty Allah. And the secret of the success is hiding in preaching Islamic values," Jawwad said.
Indian Scholar recalled that Imam Khomeini (R.A.) after the victory of the Islamic Revolution, had urged the rulers of these countries to reform themselves and stop curbing people's independence and their due rights. 'But these tyrant rulers, sitting in the lap of satanic powers, ignored the call.'
"Although, this is the late back attitude of the people of these countries, but now they have tasted Imam's lofty ideology and by following the same, stand against the cruelty and dependence on imperialism," he noted while praying for their success.
Paying the rich tribute to the great soul Jawwad expressed his disappointment that the people of these countries are deprived of the leader like Imam Khomeini.
'But, still they could achieve the success by practically following Imam's path. And this will be their greatest tribute to the revered leader.'