Iran
Araghchi: Failure of Talks Dangerous for All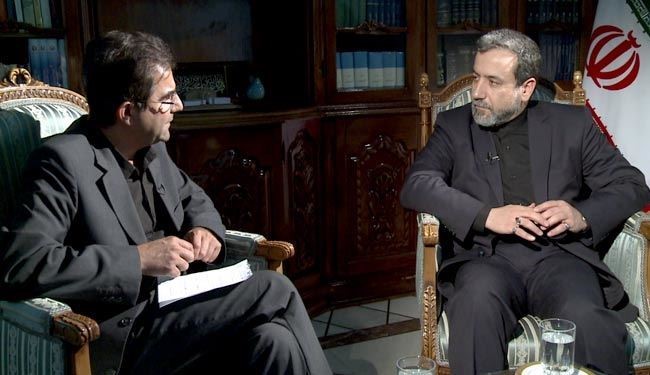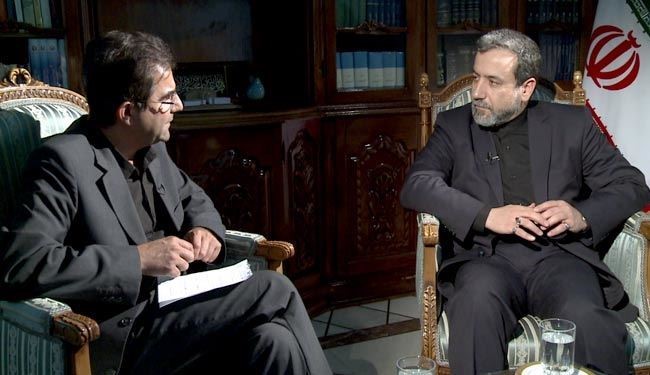 Seyed Abbas Araghchi Iran's chief nuclear negotiator in talks with the P5+1 in an exclusive interview with AL-ALAM, emphasizing "no one want a return to the condition before Geneva agreement", saying "this is dangerous scenario for all parties".
Certainly nuclear deal would benefit both parties and is in the interest of the region and both parties understand this fact. Nobody wants a return to the situation before the Geneva agreement, because it would be dangerous for everyone, Araghchi said in exclusive interview to "Men Tehran" (From Tehran) AL-ALAM weekly program.
That is why we take this talks very seriously and we see the seriousness on the other side. We both agreed that we would seek to reach deal and it is not too difficult, deputy Iranian foreign minister said on Saturday.
We have principles that must be observed and I think if the other party participate in negotiation with goodwill, save themselves from fantasies like nuclear breakout and nuclear weapons and better understanding of the Islamic Republic of Iran's realities, we will be very close to reaching a deal.
Iran sees no "alternative" to diplomatic settlement with P5+1 on its nuclear program and believes both sides are resolved to reach a deal by a deadline.
Araghchi in response to the reports about agreement on an "alternative solution" if talks fails, said: "There is no discussions on this issue and as I said, we still hope to reach agreement. I mention all of our conversations focused on reaching agreement and I think we're not allowed to lose this opportunity.
Muscat talks "determinative"
Iran's Deputy Foreign Minister for Legal and International Affairs Abbas Araghchi said new round of negotiations in Muscat – capital of Oman- will be determinative.
All members of the P5 + 1 and we believe it will be very useful to have a further presence in Oman and because of Oman's good relation with both parties we accept Sultan Qaboos king of Oman invitation, The hope is that this round of talks will be determinative, he said.
Iran and the five permanent members of the UN Security Council plus Germany will open a new round of talks about Tehran's nuclear energy program in Oman on November 11.
The new round will be crucial and show that we may have to reach a deal before November 24 deadline or not and I hope that this round of negotiations in Muscat will be successful, Araghchi said.
We need another Sessions likely, but we hope that Muscat talks will be a breakthrough, he added.
Iran and the p5+1 have been holding talks to work out a final deal aimed at ending the longstanding standoff over the Islamic Republic's nuclear energy program. The two sides have set November 24 as the deadline to reach the deal.
Iranian chief negotiator reject talking on issues like ISIS and security challenges in the region at the nuclear talk's frameworks negotiations but saying: "We emphasized that our negotiation and discussions would be only around nuclear issues; Of course I and Mohammad Javad Zarif Iranian foreign minister will have consultations on regional issues with our Omani friends.
The most important issues in negotiations
Two most important issue is enrichment and lifting sanctions, Araghchi said.
He rejecting western media reports on deal between Iran and p5+1 on quantity of Iran's centrifuges said: "there is no agreement about the extent of Iran's enrichment and centrifuge. This speculation from some newspapers, media outlet and individuals are comes from their own imagination or even it is politically motivated, Iran chief negotiator said.
On The sanctions debate, we believe there are four kind of sanctions, all four kinds should be removed. The four kind of sanction is imposed by UN Security Council, Europe Union, US congress and sanctions imposed by president of US, Araghchi emphasized.
We don't have any problem with further investigation on Iran's nuclear program, because we have nothing to hide. All ours facilities, equipment and materials is peaceful and we haven't anything to hide. Thus there is no opposition to further inspection, but our concern is misuse of these inspections and we're careful, Iranian deputy foreign minister added.