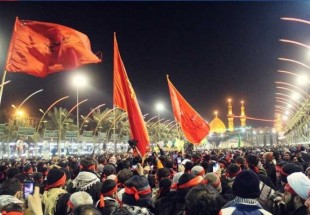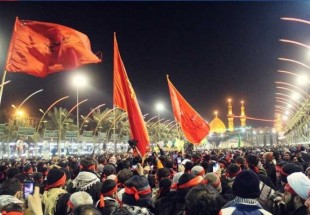 Hujjat-ul-Islam Hussein Bonyadi, top cleric at Society of Qom Seminary Teachers, on threshold of Arba'een, related on achievements of the major Shia landmark stressing the interfaith solidarity manifested during the ceremony, reported Taqrib News Agency (TNA).
He hailed the increasing participation of people from across the globe in a ceremony based on Imam Hussein (AS) and the great sacrifice he made for Islam.
The cleric said," Participation of this massive number of people from different religions and denominations in Arba'een is meant to learn from one of the best human beings who perfectly manifested devotion, bravery and commitment to human principles."
"Arba'een is unparalleled and massive convention which gathers those loyal to the third Shia Imam to Iraq where Iraqi people welcome pilgrims to their homes" said the cleric.
Iranian cleric also warned of possible plots hatched to mar the ceremony and highlighted vigilance of Arba'een pilgrims against likely hostile moves.
Arba'een is the 40th day after martyrdom of Imam Hussein (AS), third Imam and grandson of Prophet Mohammad (PBUH) who rose against the tyrant ruler of his time Yazid ibn Muawiyah and was martyred with 72 of his household members and loyal companions in the Battle of Karbala in 680 AD.