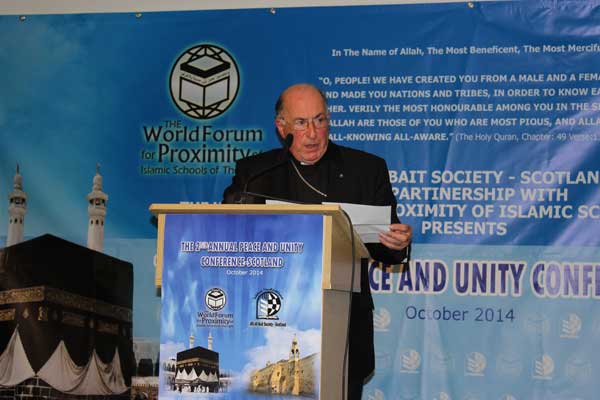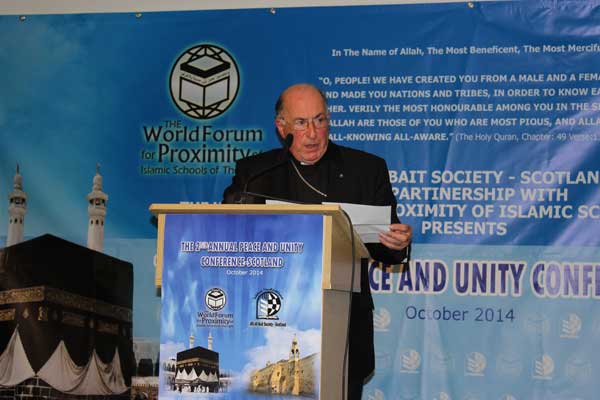 Speaking in the 2nd international peace and unity conference which was held in Scotland, Archbishop Mario Conti of Glasgow stressed the standing commonalities among all human being and underscored all human being have only one God, reported Taqrib News Agency (TNA).
The religious cleric called on all human being to back innocent and downtrodden people against the tyrants.
Archbishop Mario Conti of Glasgow accentuated the importance and necessity of propriety and respect to different takes and thoughts.
It is worthwhile noting that the 2nd international peace and unity conference was held in Scotland and religious scholars from every corner of the Islamic world, including Iraq, Lebanon, Egypt, and other countries gathered in the event.
Needless to say, holding confab among people from different religions can be a good omen for future of the world and stopping extremist groups from perpetrating outlandish moves and willful measures which is a pestilence to peace in various countries.
The world in the here and now is comatose in standing against extremist measures and vandalism. Given that unity activists do their utmost to take their steps in the realm of unity and uphold rapprochement for facing the standing vandalism the world is mired in.