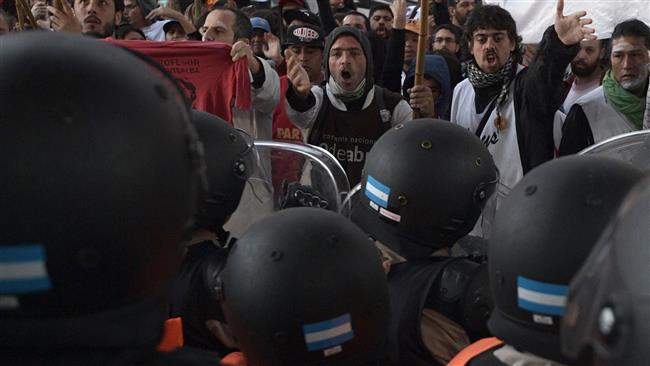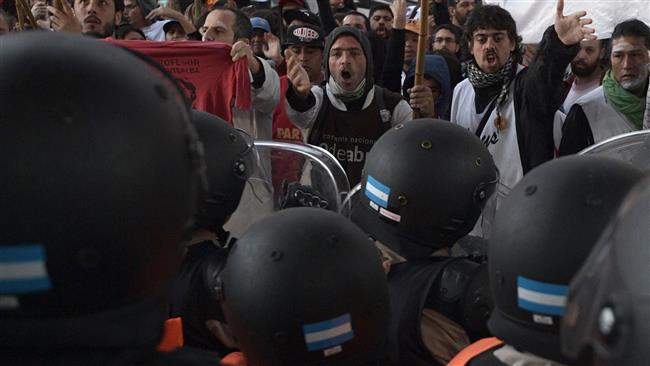 Thousands of opposition protesters have staged a rally in the Argentinean capital, Buenos Aires, to denounce police brutality.
Human rights activists, members of social and political organizations, and friends and families of victims of police brutality took part in the march from the Palace of the Argentine National Congress to Plaza de Mayo on Monday.
Activists participating in the march said police brutality had become "institutional" in Argentina.
"We are not speaking of petty small things, it is not a one-off thing, it is not one single policeman being absolved, it is something broader about the entire institution," said activist Matias Levonian.
The march was the third nation-wide march against police violence this month.
Many of the protesters carried photos of 28-year-old Santiago Maldonado, who has been reported missing he was taken into police custody during an indigenous-rights demonstration in Chubut at the start of August.
Many of the protesters blamed his disappearance on the government and the Argentine Minister of Security Patricia Bullrich, in particular.
His bohemian look is becoming the symbol of the indigenous people's rights and alleged government repression.
A giant mural of him has been created in his parents' home town in Buenos Aires Province.
His brother insists that his sibling was neither a "militant" nor an "activist" and simply had empathy for the indigenous people's cause.