Latin America
Argentinians protest against govt. spending cuts, lay-offs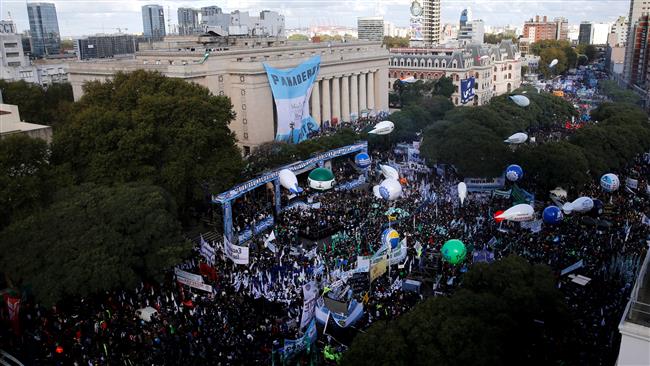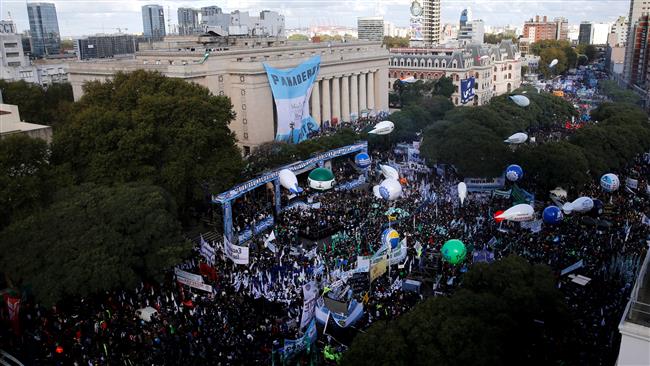 Thousands of people in Argentina have held a demonstration to voice their dissatisfaction with inflation and cuts to public sector jobs under the newly-elected government of President Mauricio Macri.
Waving national flags, protesters flocked into the streets of the Argentinean capital, Buenos Aires, in a Friday rally that brought together most powerful unions in the South American country.
Pablo Micheli, leader of the Argentine Workers' Central Union (CTA), which includes many public sector employees, said that the situation in Argentina is "critical" with no solution in sight.
"The whole workers' movement is going to mobilize against layoffs, cuts and poverty, which are deepening under Macri's government," said Jose Rigane, leader of one of the CTA branches.
Macri came to power last December with promises to revive Argentina's stagnant economy, attract foreign investment, cut bloated spending, curb deficit and decrease the inflation rate estimated at 30 percent.
His budget-cutting measures include lay-offs and eliminating subsidies.
"We are losing buying power in a significant way," Micheli said, adding, "We are hoping that the government will come to the table to talk. If not, we could call a general strike for the end of May or the first half of June."
According to a recent report by an opposition think tank, Argentine Center for Economic Policy, 141,542 workers lost their jobs in the Latin American state between December 2015 and March 2016, mostly in the private sector.
However, the government has claimed only some 10,000 state workers have been laid off.
In a bid to curb massive job losses, the opposition has put forward a bill that would guarantee generous redundancy payments. The Argentinean president, however, has pledged to veto such an initiative.