Middle East
Syria
Armed Forces Continue Chasing Terrorist Groups in Aleppo, Killing Tens of Terrorists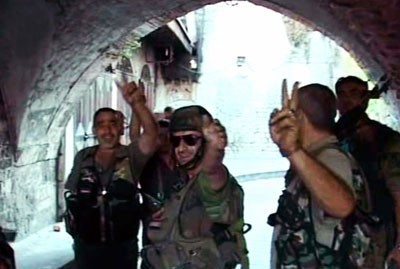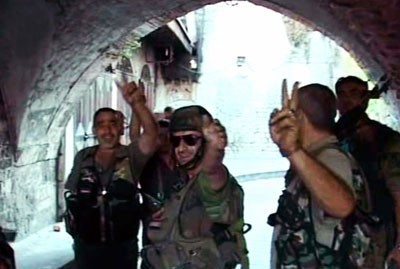 Units from the armed forces on Wednesday continued conducting qualitative operations against the armed terrorist groups in a number of areas and neighborhoods in Aleppo. The forces raided several terrorists' hideouts, chased and clashed with mercenary terrorists killing many of them and arresting others.
A source in the province told SANA reporter that an army unit targeted in a qualitative operation a center for leaders of terrorist groups in al-Ansari neighborhood in the city of Aleppo in which it killed and injured tens of terrorists.
The armed forces also clashed with an armed terrorist group stationed near al-Tahrir School in al-Fardous neighborhood in Aleppo and killed all of the mercenary terrorists.
Another armed forces' unit, the source told SANA reporter, clashed with a terrorist group near the Post Establishment in Saif al-Dawla neighborhood in Aleppo, killing scores of terrorists, and seized a field hospital.
Accordign to the source, a qualitative operation was conducted by the army against an armed group near Abdul-Muneim al-Sabbagh School in the roundabout of Bustan al-Basha leaving its members dead and injured and destroying an ammunition depot.
The army also carried out another qualitative operation against terrorist groups in the neighborhoods of al-Halk, Suleiman al-Halabi and al-Jandoul roundabout. The army clashed with the groups' members and inflicted heavy losses upon them.
SANA reporter also mentioned that an army unit clashed with a terrorist group that was hiding in Bustan al-Qasr Park killing and injuring tens of its members.
He added that the armed forces killed scores of terrorist who were disguised in women cloths in the area of Saif al-Dawla and others who were trying to flee the area using sewage lines.
The armed forces also destroyed several terrorists' centers in al-Sayyed Ali and al-Sheikh Maqsoud areas in Aleppo, inflicting heavy losses upon the terrorists, the reporter quoted the source as saying.
He added that the army conducted a qualitative operation in Andan area in Aleppo countryside, targeting a post used to provide weapons and ammunition to the armed terrorist groups, dozens of terrorists were killed.
Scores of terrorists were arrested in Andan while trying to enter Aleppo via the road of Gaziantep.
In Mare' in Aleppo countryside, SANA reporter said, the armed forces targeted and destroyed a command center of the armed terrorist groups and an ammunition depot, killing large numbers of the terrorists.
Other Army units clashed with armed terrorist groups at Mare' and Azaz and Hreitan in Aleppo countryside , inflicting heavy losses among them.
The Army also clashed with mercenaries at Tal Rifaat in Aleppo countryside, destroying a car loaded with ammunition and weapons.
Meanwhile, SANA reporter said, the rehabilitation and maintenance workshops started cleaning and restoration works in the neighborhood of the area of the Faculty of Sciences and the right side of Saif al-Dawla neighborhood after getting rid of the armed terrorist groups in these areas.
Terrorist Group Eliminated in Darayya, Damascus Countryside
In Damascus Countryside, a unit from the armed forces clashed with an armed terrorist group that attacked citizens in the area of Darayya orchards.
An official source told SANA that the clash left all the group's members dead, adding that their weapons were confiscated. The source added that a workshop for manufacturing explosive devices was discovered in the area including an amount of explosive devices.
Terrorists Killed in Nahr Aisha, Damascus
SANA reporter in Damascus said that the authorities pursued an armed terrorist group in Nahr Aisha neighborhood in Damascus, killed its members and confiscated their weapons that included machineguns, rifles, RPG launchers and ammunition.
Authorities Kill Scores of Terrorists in Homs
The authorities ambushed an armed terrorist group in Jousiyeh area in al-Qseir countryside and killed scores of terrorists, among them were Mustafa al-Zaqrit, Mohammad Mustafa al-Zaqrit, Salah Noor Eddin Matar and Hammoud Amoun.
The authorities also ambushed an armed terrorist group in the area of al-Qantara Bridge in al-Qseir and killed four terrorists and wounded another two.
Gas Oil Smugglers in Homs Arrested, 80,000 Liters Confiscated
In another context, the authorities arrested a number of gas oil smugglers on Homs-al-Fruqlus road and confiscated around 80,000 gas oil liters. The terrorists who accompanied the trucks suffered heavy losses at the hands of the authorities.