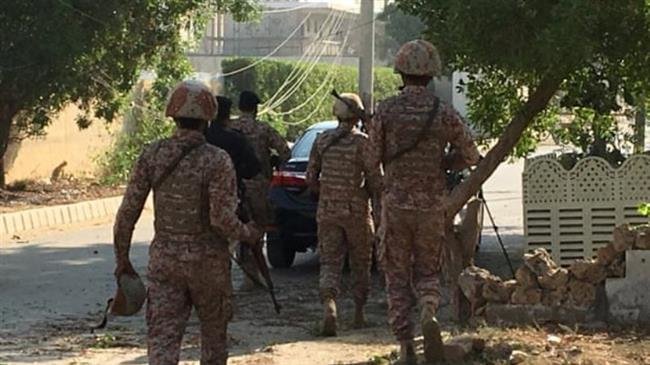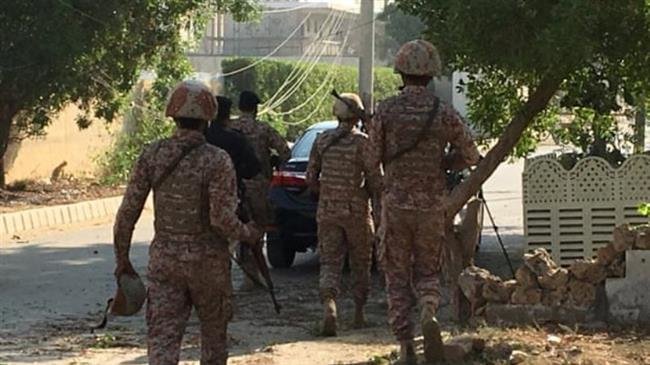 Three assailants strapped with explosives have attacked the Chinese consulate in Pakistan's southern city of Karachi, leaving two policemen dead. 
The city's police chief said the attackers were killed before entering the building early Friday.
An exchange of fire erupted between the guards and the gunmen, which also resulted in the "killing two of our constables and critically wounding another," said senior local police official Javaid Alam Odho.
The separatist Pakistani group, the Balochistan Liberation Army (BLA), claimed the attack. "They stormed the Chinese embassy in Karachi. China is exploiting our resources," the group's spokesman Jiand Baloch said.
A Pakistani naval official says China has not asked for military access to the Gwadar port.
Pakistani media showed smoke rising from the building and shots ringing out at the scene.
Pakistani Foreign Ministry said in a statement that all 21 Chinese staff inside the consulate are safe.
China, which neighbors Pakistan, is a close ally and the country's main benefactor. It launched a project on the Pakistani port under the China-Pakistan Economic Corridor (CPEC) back in 2015  to connect the port of Gwadar on Pakistan's south coast to China's Xinjiang via a vast network of highways and railways.
Beijing has also promised to support Pakistan's economy when Prime Minister Imran Khan described in a "very difficult" situation in a visit to China earlier this month.
Khan said that his government has "inherited a very difficult economic situation," since assuming office in August.
On Friday, the prime minister ordered an inquiry into the attack which he said was part of a conspiracy aimed at undermining economic and strategic cooperation between the two nations.
"The Prime Minister has ordered a complete inquiry into the incident and has desired that elements behind this incident must be unearthed," Khan's office said in a statement.
"Such incidents will never be able to undermine Pak-China relationship," the statement added.
Chinese Foreign Ministry spokesman Geng Shuang said, "China strongly condemns any violent attacks against diplomatic agencies and requests that Pakistan takes practical measures to ensure the safety of Chinese citizens and institutions in the country."
China is is ploughing billions of dollars in loans and infrastructure investments into the South Asian nation as part of Beijing's vast Belt and Road initiative.
India also condemned the consulate attack, saying there was no justification for such violence.
"The perpetrators of this heinous attack should be brought to justice expeditiously," the Indian Foreign Ministry said in a statement.
Blast at crowded market in northwest
Elsewhere in Pakistan's northwestern region of Orakzai, a bomber drove his motorcycle into a festival at a crowded market, killing at least 25 people and injuring 35 others on Friday.
"It was a blast at the festival that is held every Friday," said Abbas Khan, the assistant commissioner of the district.
Among the victims were three members of the minority Sikh community and two security officials.
No group has yet claimed responsibility for the bombing.
The region, formerly a semi-autonomous part of Pakistan's ethnic Pashtun tribal area, has for decades been a refuge for militants fighting in Afghanistan, and more recently against the Pakistani government.
Islamabad has stepped up military operations along the border since 2009 and has managed to clear some areas of militants.