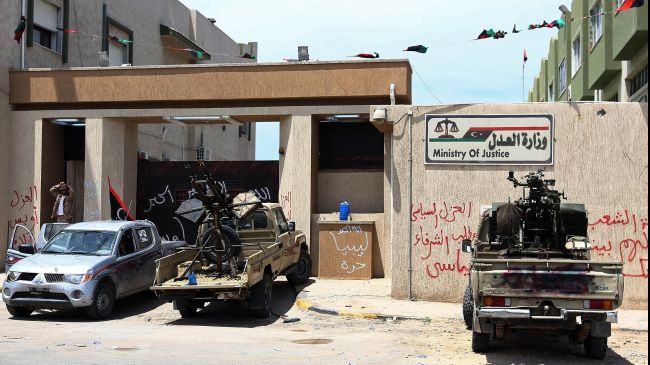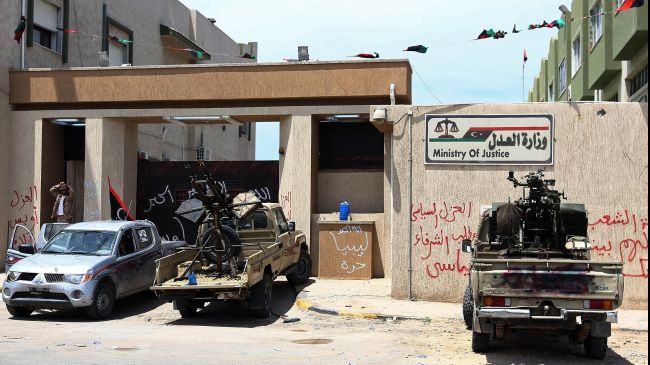 Armed men in the Libyan capital Tripoli continue their sieges of Justice and Foreign Ministries.
Libya's General National Congress, under pressure from the gunmen, passed a law on Sunday, excluding officials from the era of former dictator Muammar Gaddafi, including current Prime Minister Ali Zeidan, who served as a diplomat under the former regime, from holding key posts.
"The adoption of the law on political exclusion is a major step in the right direction. But we will take our time to examine certain aspects of the law," said Osama Kaabar, a leader of the gunmen, who had vowed to lift the sieges if the sweeping law was ratified.
The gunmen in vehicles equipped with antiaircraft guns continued their sieges of the ministries on Monday, demanding the immediate resignation of Zeidan.
On April 28 and 30, a number of armed men surrounded the ministries, calling for purging of remnants of the former regime from key posts and hiring of those who helped topple the long-time dictator.
Libyans rose up against Gaddafi's four-decade-long rule in February 2011 and deposed him in August 2011. The dictator was killed on October 20 of the same year.