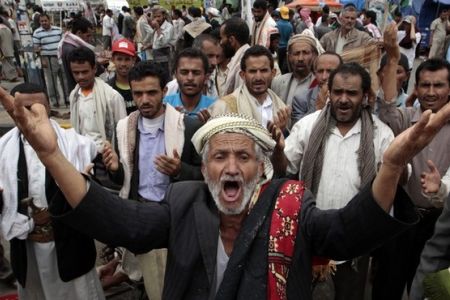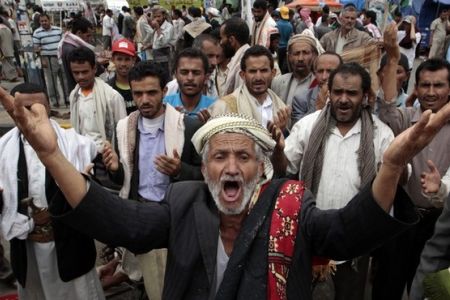 Thousands of armed Yemeni tribesmen have headed to the capital of Sana'a amid fierce clashes between the tribesmen and forces loyal to President Ali Abdullah Saleh.

Yemeni tribal chiefs said the tribesmen made the move on Thursday in support of Sheikh Sadeq al-Ahmar, leader of Yemen's powerful Hashid tribe, AFP reported.
The tribesmen "want to enter Sana'a to back their leader," said a tribal chief.
Meanwhile, clashes erupted between the tribesmen and Yemeni security forces at a military post located 15 kilometers (nine miles) north of the capital.
Flights to Sana'a airport were suspended and diverted to the southern city of Aden, according to an aviation official who requested anonymity. The decision was made as heavy clashes continue in al-Hasaba neighborhood, 10 kilometers (six miles) south of the airport.
Huge explosions rocked Sana'a early Thursday morning while intense fighting was underway near the residence of Sheikh al-Ahmar in the capital's northeastern district of al-Hasaba.
Witnesses said at least 15 people, including a seven-year-old girl who was hit by a stray bullet, were killed during overnight fighting between the two sides.
A truce between Yemeni forces loyal to President Saleh and opposition tribesmen had come into effect on May 29. However, it seemingly failed when around seven tribesmen were killed in clashes with regime forces on Tuesday.
In addition to those killed on Tuesday, scores of tribesmen and regime forces have also lost their lives in clashes that took place since Saleh refused to sign a power transition deal brokered by the [Persian] Gulf Cooperation Council on May 23.
The Yemeni government has accused Sheikh al-Ahmar's loyalists of breaking the truce. However, sources on the side of Sheikh al-Ahmar hold pro-Saleh forces responsible for breaking the truce by firing on the Sheikh's compound.
Hundreds of thousands of people have turned out for near daily demonstrations in Yemen's major cities since late January, calling for an end to corruption and unemployment and demanding the ouster of Saleh, who has been in office since 1978.