Middle East
Saudi Arabia
Yemen
Arms dealers complicit in Saudi war crimes in Yemen: Iran
Iran has censured the latest Saudi airstrikes in Yemen's northwestern province of Hajjah, saying the so-called advocates of human rights are complicit in Riyadh's crimes as they sell arms to the regime.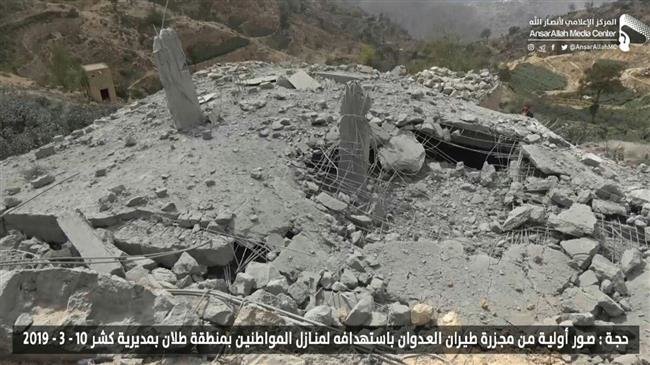 "The so-called advocates of human rights not only remain silent in the face of daily killings of women and children in Yemen, but they are also complicit in these crimes by selling weapons to the aggressors," Iranian Foreign Ministry Spokesman Bahram Qassemi said on Monday.
He criticized human rights organizations and circles for remaining tight-lipped in the face of inhumane war crimes committed by the aggressors against Yemen.
The Iranian spokesperson added that innocent defenseless Yemeni women and children, who have suffered from years of famine and the consequences of the human tragedy in the country, are falling victim in the most brutal manner to the arms donated and sold to the invaders by some Western countries, but their voice is not heard as long as they are alive.
However, their deaths will go down in history as proof of disgrace for those who falsely claim to be advocates of human rights, Qassemi said.
Saudi warplanes bombarded residential buildings in Talan village of Kushar district in Yemen's Hajjah on Sunday afternoon, leaving 9 women and 14 children dead, according to Arabic-language al-Masirah television network.
Saudi warplanes reportedly targeted ambulances in the strikes.
The channel quoted local sources, speaking on condition of anonymity, as saying that the attacks leveled five houses to the ground. Saudi warplanes also reportedly targeted ambulances, preventing doctors and paramedics from reaching the area.
Saudi Arabia and a number of its regional allies launched a devastating military campaign against Yemen in March 2015, with the goal of bringing the government of former president Abd Rabbuh Mansur Hadi back to power and crushing the Ansarullah movement.
According to a report by the Armed Conflict Location and Event Data Project (ACLED), a nonprofit conflict research organization, the Saudi-led war has so far claimed the lives of around 56,000 Yemenis.
The war has also taken a heavy toll on the country's infrastructure, destroying hospitals, schools, and factories. The United Nations has already said that a record 22.2 million Yemenis are in dire need of food, including 8.4 million threatened by severe hunger. According to the world body, Yemen is suffering from the most severe famine in more than 100 years.
The UN in February warned that the situation in war-ravaged Yemen is further deteriorating as the Arab country is facing the biggest humanitarian crisis in the world.
The UN says the situation in war-ravaged Yemen is worsening with over 14 million people in "acute" need of humanitarian aid.
"The humanitarian crisis in Yemen remains the worst in the world," said the UN Office for the Coordination of Humanitarian Affairs (OCHA) in a statement.