Syria
Army Kills Large Number of US, Israel-backed Terrorists across Syria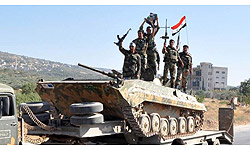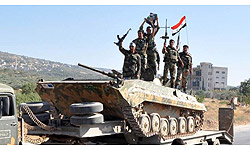 The Syrian army inflicted heavy damages and casualties on terrorists in different parts of the country, FNA dispatches said on Saturday.
The Syrian army killed many terrorists near al-Yarmouk refugee camp in Damascus in heavy clashes with armed rebels today.
In the city of Aleppo, the army attacked several terrorist bastions and killed a large number of armed rebels.
In Homs, the Syrian army also killed 10 armed rebels in al-War al-Qadim district.
In Jasr al-Shaqour city, the army killed 30 members of the terrorist Sham Azadegan Battalions in Zarzour district today.
In the Southern city of Daraa, the Syrian army attacked a number of terrorist hideouts killing several terrorists.
In the Eastern city of Deir al-Zour, the army killed many terrorists as they were trying to launch an attack on one of the security posts and were planting explosives.
The army killed a notorious member of the al-Nusrat Front, Salah Owad al-Abd in clashes with terrorists in Deir al-Zour city on Saturday.
The Syrian army clashed with al-Nusrat Front terrorists in Abu Abed, Seta al-Arba, Modir al-Tarbieh districts of Deir al-Zour today.
The army also killed at least 30 armed rebels in al-Jobeila, al-Hamidia, al-Omal and al-Roshdiyeh districts of Reef (outskirts of) Deir al-Zour.
Terrorists have tried hard in the last several days to make Syrian cities unsafe for citizens, but the army has purged them from most neighborhoods and districts, killed tens of them and arrested many others.
Syria has been experiencing unrest since March 2011 with organized attacks by well-armed gangs against Syrian police forces and border guards being reported across the country.
Hundreds of people, including members of the security forces, have been killed, when some protest rallies turned into armed clashes.
The government blames outlaws, saboteurs, and armed terrorist groups for the deaths, stressing that the unrest is being orchestrated from abroad.