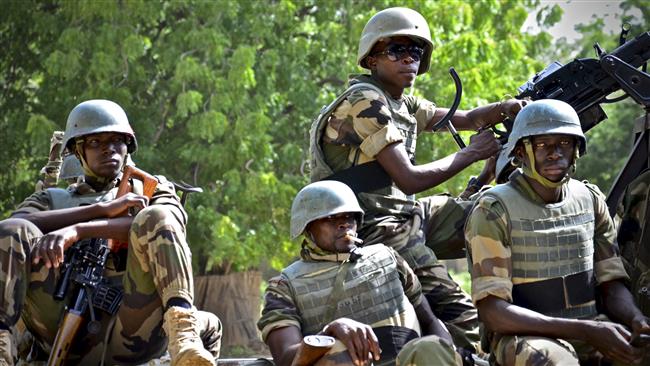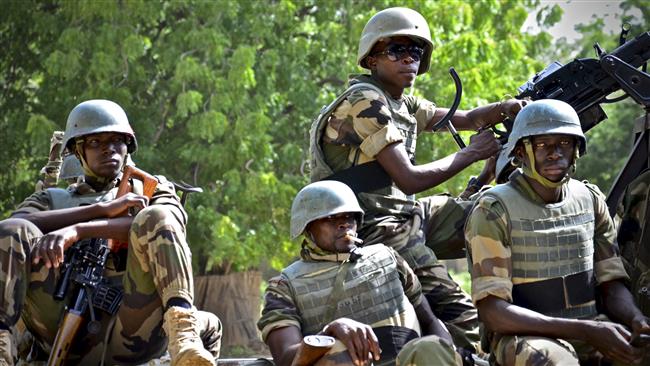 Nigerian soldiers have rescued more than 240 women and children in a series of security operations against the Takfiri Boko Haram terrorist group in the country's troubled northeast.
Nigerian military sources said on Wednesday that the hostages were released and rescued on Tuesday as the soldiers cleared "terrorist camps" near Banki in Borno State.
The region is located close to the border with Cameroon and is considered as a stronghold of the terrorist group, which has used Banki to launch cross-border attacks in and around Cameroon's town of Amchide in recent months.
Meanwhile, Nigerian army spokesman Sani Usman said it was not immediately clear whether all of those rescued had been kidnapped by Boko Haram, adding, "Screening is ongoing to know their exact status. Some were being held, some belonged to their (the militants') families."
Last month, nearly 180 people, mostly women, were freed south of Maiduguri, the capital and the largest city of Borno state.
Also in May, hundreds of women and children kidnapped by the militants were rescued during a military operation against the group's Sambisa Forest stronghold.
Amnesty International said earlier this year that Boko Haram has kidnapped more than 2,000 women and girls since January 2014.
Nigeria military detains top militant commander
Nigerian soldiers also detained more than 40 Boko Haram militants and destroyed at least two "terrorist camps" during operations in the villages of Jangurori and Bulatori.
Bulama Modu, a top militant commander, is said to be among those detained during the military raids. Modu is a member of the highest decision-making body in Boko Haram.
The Boko Haram militancy has now become a regional issue, having spilled over into Nigeria's neighboring countries. Troops from Nigeria, Chad, Cameroon and Niger have been battling the terrorists in recent months.
Boko Haram started its campaign of militancy in 2009, when the terrorist group started an armed rebellion against the government. Latest figures show about 20,000 people have been killed since then.