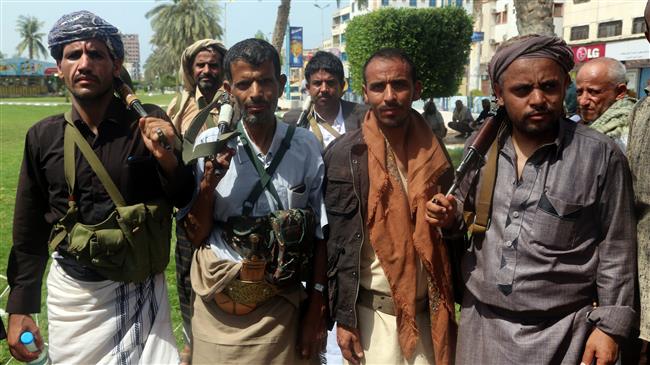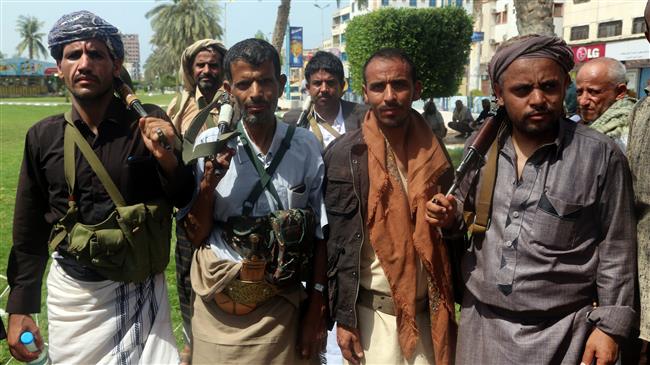 Yemeni army soldiers, backed by fighters from allied Popular Committees, have launched a major operation against Saudi troops and pro-Saudi militiamen loyal to resigned Yemeni president Abd Rabbuh Mansur Hadi in the country's western coastal province of Hudaydah, killing and injuring tens of them in the process.
An unnamed Yemeni military source told Arabic-language al-Masirah television network that Yemeni troopers and allied fighters launched separate attacks against Saudi soldiers and their mercenaries north of al-Majlis and al-Durayhimi districts on Friday, dealing stinging blows to them.
The source added that at least 11 armored vehicles were destroyed during the offensives as well.
He further stated that the operations were carried out following a series of surveillance and monitoring the movements of Saudi invaders and their agents.
The development came just a day after Yemen's air defense system had shot down an enemy spy drone in the northwestern Sa'ada province.
Separately, Yemeni sources said an Emirati reconnaissance plane was shot down near Saudi Arabia's southwestern Jizan region, killing the crew.
They added that the plane was returning to its base after carrying out an aerial operation in Yemen's western coast.
The media bureau of Yemen's Operations Command quoted Yemeni military sources as saying that the Emirati jet, which had two pilots, was brought down by the Yemeni air defense system.
The Yemeni Ministry of Human Rights announced in a statement on March 25 that the Saudi-led war had left 600,000 civilians dead and injured since March 2015.
The United Nations says a record 22.2 million Yemenis are in need of food aid, including 8.4 million threatened by severe hunger.
A high-ranking UN aid official recently warned against the "catastrophic" living conditions in Yemen, stating that there was a growing risk of famine and cholera there.
"People's lives have continued unraveling. Conflict has escalated since November driving an estimated 100,000 people from their homes," John Ging, UN director of aid operations, told the UN Security Council on February 27.
Ging said cholera had infected 1.1 million people in Yemen since last April, and a new outbreak of diphtheria had occurred in the war-ravaged Arab country since 1982.