Cultural
Europe
Saudi Arabia
World News
Yemen
Artists pull work from UK museum over Saudi arms sales
An arts collective has withdrawn its work from a British museum after discovering its ties to the American arms manufacturer Raytheon, a company that continues to sell arms to Saudi Arabia despite the kingdom's deadly war on Yemen.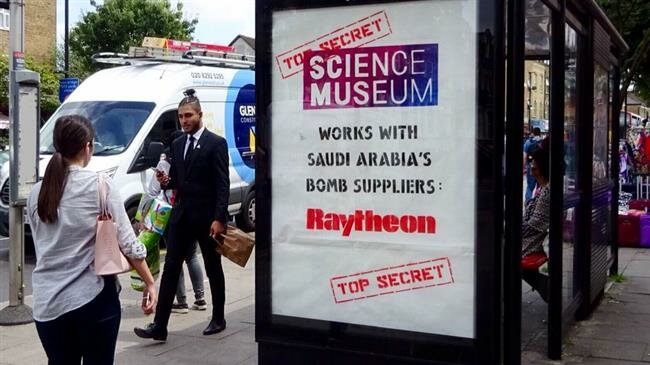 Protest Stencil, which identifies itself as an art-activist group and specializes in replacing standard advertisements with political poster campaigns, had agreed to donate a poster to the London Science Museum's new exhibition, Top Secret, according to the Associated Press.
"I've pulled out of the exhibition because I found out that the exhibition was sponsored by Raytheon, the arms maker and Raytheon is the company that makes some of the missiles that Saudi Arabia is dropping on Yemen," said a member of the group, who requested anonymity due to nature of his activism.
"We actually did some work last year opposing all arms transfers to Saudi Arabia, so of course we couldn't be working alongside Raytheon," added the artist.
The group's work has covered a multitude of issues, from social media giant Facebook's data misuse scandal, protests against President Donald Trump and the campaign to free Palestinian teenager Ahed Tamimi.
Protest Stencil, an art-activist project collaborating with grassroots groups on a range of issues inc. the arms trade, pulls out of Science Museum "Top Secret" show, accusing it of artwashing weaponsmaker Raytheon's involvement in human rights abuses.
They even sprayed the lifesize outline of a drone aircraft outside the London Science Museum, to protest against a reception dinner being held for the Farnborough Arms Fair.
And it's the Science Museum that has taken an interest in the group's work.
It asked Protest Stencil to donate one of its Facebook posters to new exhibition Top Secret, which lifts the lid on Britain's codebreaking past and present.
The group was happy to oblige – until, that is, they found out who was sponsoring the show.
The UK-based organization Campaign Against Arms Trade (CAAT) recently won a legal challenge in the British courts which deemed arms sales to Saudi Arabia illegal.
Andrew Smith, CAAT's media coordinator, is critical of Raytheon's involvement with the Science Museum.
"Arms dealers don't care about museums, they don't care about culture and visitors. All they care about is profit and they care about their reputation," he says.
"They aren't doing this because they think this is an excellent exhibition, they're doing this because they want to be associated with something positive like the Science Museum. The arms companies are using the reputation of museums in order to try to boost their own reputations; it's an extremely cynical move."
The Science Museum declined to be interviewed by the Associated Press but released a statement saying:
UK arms cause 'significant civilian' deaths in YemenUK arms sales to Saudi Arabia have caused "significant civilian" deaths in Yemen, a report finds.
"The Science Museum's corporate sponsors, individual funders, trusts and foundations allowed us to deliver this world-leading exhibition to our audiences free of charge. We respect the artist's decision though are disappointed that our visitors will miss out on one interesting perspective on concerns around privacy in a digital age. Visitors to Top Secret will experience remarkable stories of communications intelligence and cyber security, supporting our mission to inspire the next generation of scientists and engineers; a goal all our partners strongly support."
Raytheon is a US-based arms manufacturer, producing weapons that include Tomahawk Cruise Missiles and the Patriot surface-to-air missile system.