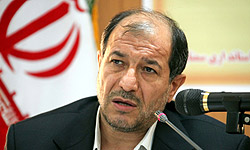 Iran's Interior Minister Mostafa Mohammad-Najjar says one of those killed in Tehran on Ashura day has been shot with a "rare gun."
He said that there was a "Western scenario" aimed at inciting violence in Iran through killing people on Ashura day.
"After close reviews it was revealed that he has been assassinated by a rare and special gun," Iran's interior minister said in remarks that seem to be an indirect reference to Mir-Hossein Mousavi's nephew.
"He was assassinated in an area that was not the scene of protests," Mohammad-Najjar added.
"Foreign agents assumed that they could incite tension by making such moves," IRNA quoted the Iranian officials as saying on Wednesday.
According to police reports two of those killed on Ashura day lost their lives in accidents, one fell from a high altitude, one was stabbed to death, two were killed during the unrest after receiving hard blows and one had records that showed he was a drug addict, Mohammad-Najjar stated.