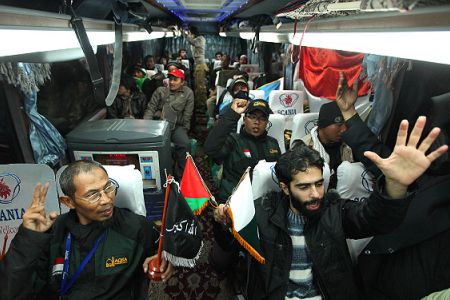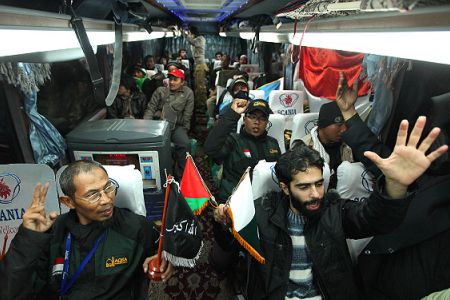 The first Asian humanitarian aid convoy carrying relief material for the besieged Gaza Strip has arrived in the Iranian capital, Tehran.
The Asian People's Solidarity for Palestine convoy, which is traveling through Iran before heading to Turkey, arrived in Tehran on Sunday and was greeted by the city's people and officials, including Tehran's Mayor Mohammad Baqer Qalibaf.
The caravan on Saturday arrived in Qom, where members of the convoy met with a number of religious figures.
The convoy began its journey from New Delhi, India, earlier this month and entered Iran thorough the southeastern city of Zahedan in Sistan-Baluchestan province on December 9.
It entered Kerman province on Thursday, continued their journey to Yazd province, and arrived in Isfahan on Friday. The convoy will travel through Zanjan and Tabriz en route to Turkey.
Last week, 200 Iranian lawmakers issued a statement expressing their support for the humanitarian convoy with the aim of showing solidarity with the Palestinian people.
The convoy will pass through a number of other countries, including Turkey, Syria, and Egypt, before entering Gaza via the Rafah crossing on December 27, which marks the second anniversary of the Israeli offensive against the people of Gaza at the turn of 2009.
The Israeli onslaught took the lives of more than 1,400 Palestinians, mostly civilians, in the populated coastal strip and left thousands more injured.
The convoy consists of 150 human rights activists with different nationalities and religions from all walks of life, and is established to support the oppressed people of Gaza and collect aid for them.
Muslim, Christian, Jew, Hindu and Buddhist activists from Asian countries, including Japan, India, Pakistan, Indonesia, Malaysia, Thailand, Nepal, Bangladesh, and Iran, are traveling about 10,000 kilometers, hoping to break the Israeli-imposed siege of Gaza.
In addition, there are some people in the convoy who were injured in Israel's attack on the Gaza Freedom Flotilla in spring 2010.
On May 31, nine Turkish activists aboard the Gaza Freedom Flotilla were killed and many others were injured when Israeli commandos opened fire on them in international waters of the Mediterranean Sea.
The aid flotilla, organized by the Free Gaza Movement and the Turkish Foundation for Human Rights and Freedoms and Humanitarian Relief, was carrying aid, medical supplies, and construction materials to Gaza.
Tel Aviv laid an economic siege on the Gaza Strip in June 2007 after Hamas took control of the coastal sliver. The illegal blockade has had a disastrous impact on the humanitarian and economic situation.
Some 1.5 million people are being denied of their basic rights, including freedom of movement, and the rights to appropriate living conditions, work, health and education. Poverty and unemployment rates stand at approximately 80 and 60 percent respectively in the Gaza Strip.