Syria
Assad brother plays key role in war against foreign-backed militants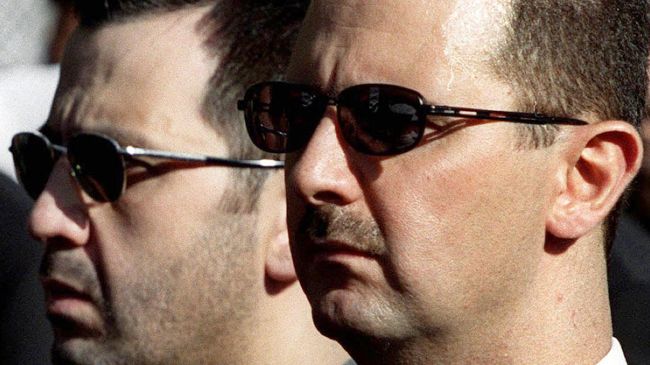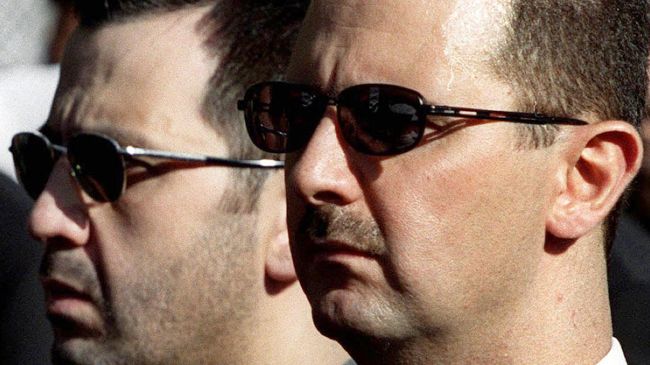 Maher al-Assad, the Syrian president's younger brother, has been playing a key role in the war against foreign-backed militants fighting in Syria.
A picture dated June 13, 2003 shows Syrian President Bashar al-Assad and his brother Maher (L) attending their father
A picture dated June 13, 2003 shows Syrian President Bashar al-Assad and his brother Maher (L) attending their father's funeral in Damascus on June 13, 2000.
The 46-year-old Maher, the commander of the elite Republican Guard and the army's powerful 4th Armored Division, deployed troops to Deraa Province to fight against the militants after the unrest started in the country in March 2011.
The US subsequently announced sanctions against Maher, putting his fourth division on its blacklist. The EU also imposed same sanctions on him.
Maher, who is rarely photographed or even quoted in Syria's media, commands more than 15,000 elite troops in the 4th Armored Division that protects the Syrian capital Damascus from militants on its outskirts and is widely believed to have helped orchestrate the government's fierce campaign to put down the militancy, now well into its third year.
He has not yet used all of the capacities of his forces in the fight against the militant groups because their essential duty is to protect Syria against foreign attacks. The 4th Armored Division has also been playing a key role in fighting against terrorist groups and liberating the areas held by the militants. The division has gained victories in al-Qusayr and Khalidiya battles.
In the past year, his troops have launched repeated offensives against Takfiri militants firmly entrenched on Damascus' outskirts, bombarding and raiding the impoverished suburbs they hold.
Cleaning operations in Daraa and Homs provinces and the liberation of the city of al-Qusayr were among the successful army operations led by Maher.
Maher, a brigadier general, has shown no thirst for the presidency, and there has been no public sign of friction with his brother.
Maher's performance has defused terrorist groups' assassination attempts against President Bashar al-Assad during his public appearance in different areas of Damascus.
He has also gained a reputation for braveness among militant groups.
Hisham Jaber, a retired Lebanese army general who has studied the Syrian army and is in touch with officers from the 4th Division, said Maher Assad is known as a "brave … and in some respects aggressive man, who has a lot of military experience."
He also played a role in reshaping the Syrian military as the conflict dragged on.
Before his promotion to general, Maher commanded a Republican Guard brigade. This provided him with valuable military experience and allowed him to establish personal ties with many officers.
Syria has been gripped by deadly unrest since March 2011. According to reports, the Western powers and their regional allies — especially Qatar, Saudi Arabia, and Turkey — are supporting the militants operating inside Syria.
According to the UN, more than 100,000 people have been killed and a total of 7.8 million of others displaced due to the violence.
The unrest has been reportedly aimed at destroying "axis of the resistance" that includes Iran, Syria and Lebanon's Hezbollah group.