Syria
Assad: Damascus Firm in Resistance Path, Boroujerdi: Syria's Security Is Iran's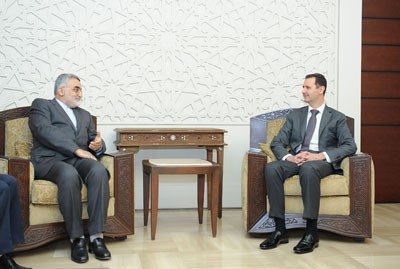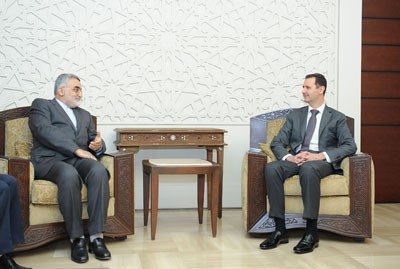 President Bashar al-Assad stressed on Sunday that his country was firm in adopting the path of resistance, noting that the scheme targeting Syria was also targeting the entire region.
Assad's remarks were as he received the Chairman of Iran's Shura Council's National Security and Foreign Policy Committee, Alaeddin Boroujerdi, who affirmed that the security of Syria was Iran's security.
"Syria is firm in adopting the resistance path, whatever was the cooperation between the Western countries and some regional states in a bid to turn Damascus from its stance."
"What is going on in our country is not targeting Syria alone but against the entire region," President Assad told Boroujerdi.
He stressed that the Syrian people will not allow this scheme to pass and reach its goals whatever the cost.
The talks during the meeting dealt with the brotherly relations and strategic cooperation between Syria and Iran in the various fields, according to state news agency, SANA.
BOROUJERDI'S REMARKS
For his part, Boroujerdi underscored the common interests shared between Syria and Iran, stressing that the security of Syria is Iran's security.
He reaffirmed Iran's continued support for Syria, government and people, on all levels and its constant consultation with Damascus regarding any initiatives proposed for getting out of the crisis in Syria, considering this an essential issue for the success of any initiative, SANA said.
"In the same way Iran suffered from terrorism and has overcome that difficult period, Syria is likewise able to do so as both countries are like steel," Boroujerdi told President Assad.
He also stressed that that the foreign powers, no matter what level their conspiracies could reach, cannot undermine Damascus and Tehran's resistant role in the region.