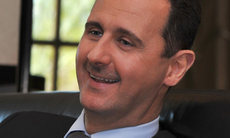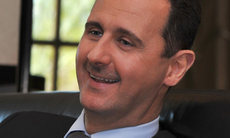 Syrian President Bashar al-Assad said the Syrians were waiting for such an intervention by the US, promising to get out from this war victorious.
Assad
During his latest meeting with Syrian military leaders after speculations grew on a US military strike on allegations of chemical attack on Damascus, Assad said that "since the beginning of the crisis, and we were sure that the moment will come when our real enemy knocks his head into our country intervening," adding that he knows well that the Syrian leaders' morals are high and "you are on full readiness to face any aggression and protect the homeland."
But he ordered them to convey these high morals to their inferiors and to the Syrian citizens, according to Al-Akhbar newspaper.
"This is a historic confrontation that we will come out of victorious," he ended up saying.
President Assad told a visiting delegation of Yemeni politicians also on Thursday that Syria will defend itself against any attack. "Syria will defend itself in the face of any aggression, and threats will only increase its commitment to its principles and its independence," he said, according to Syria's state television.
"Syria, with its resistant people and valiant army, is determined to wipe out terrorism which is being backed by Israel and Western nations to serve their own purposes of sowing division in the region, fragmenting its people and forcing them into submission," the president added. "The people are the guarantors of victory and that is what is happening in Syria."