Syria
At Least 14 ISIL Terrorists Killed in Deir Ezzur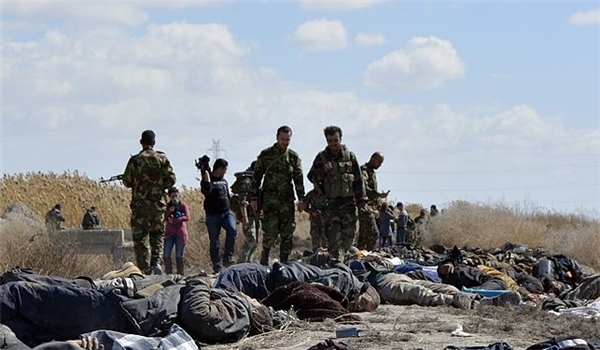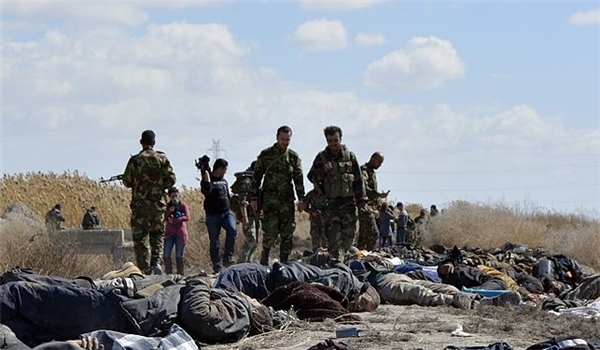 The Syrian army killed at least 14 ISIL Takfiri militants in military operations in Deir Ezzur province on Thursday.
The army advanced towards the ceramic factory in al-Mrai'eiyeh village, 10km East of Deir Ezzur, killing 14 ISIL terrorists and injuring several others who were inside the factory. Other terrorists also escaped.
The army also fired artillery shells at ISIL terrorists' concentration centers in the vicinity of al-Seyasiyeh Bridge on the Northern entrance of Deir Ezzur city, inflicting heavy losses on the terrorists.
Meanwhile, the Syrian troops also destroyed an ISIL hideout in al-Sena'a neighborhood, and killed all the terrorists who were inside it.
Also on Thursday, the Syrian army, backed by Russian warplanes, thwarted a terrorists' attack on Deir Ezzur military airport, killing 25 Takfiri militants.
The Syrian forces repelled the attack on Deir Ezzur military airport, and killed 25 Takfiri terrorists and injured at least 40 others.
Earlier, field sources said the army thwarted an attempt by a terrorist group affiliated to the ISIL organization to infiltrate into the vicinity of Deir Ezzur airport, killing all the members of the group.