Ashura
Africa
Days of Allah
At least 3 killed, 12 wounded after police attacked Ashura mourners in Nigeria's Sokoto state: Report
At least three people have been killed and a dozen more wounded after police forces attacked a commemorative Ashura mourning procession held by local Shia Muslims in Nigeria's northern state of Sokoto, a report says.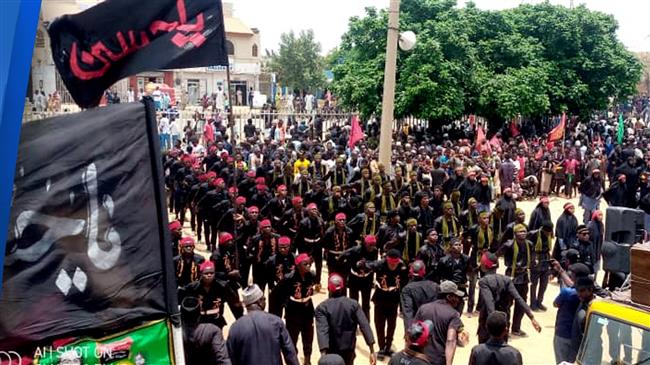 According to a report published on the website of the Islamic Movement in Nigeria on Friday, Nigerian police attacked Ashura mourners in the eponymous state capital with live ammunition and tear gas on Thursday, killing at least three people and seriously wounding 12 more.
The mourners were commemorating Ashura — marking the martyrdom anniversary of Imam Hussein (AS), the third Shia Imam and grandson of Prophet Muhammad (PBUH) in the Karbala tragedy.
The movement posted pictures of the bodies of the three mourners who were shot dead by the Nigerian police to refute their claim that "neither a Shia member nor anybody was killed or injured" in Sokoto on Thursday.
The mourning ceremony was largely held peacefully, but police attacked at the end when mourners were saying the closing prayer.
The movement identified those killed as Bello Muhammad Illela, Imrana Umar Yabo, and Hasan Abubakar Sokoto.
It also condemned the brutal attack on unarmed civilians.
The movement further reported that Ashura mourning processions were held in various state capitals and major towns across Nigeria without any report of the police attack on mourners, asking why such a brutal raid on mourners was carried out in Sokoto.
The Islamic Movement in Nigeria is led by Shia Muslim cleric Sheikh Ibrahim al-Zakzaky.
In December 2015, Nigeria's military launched a crackdown as part of a deadly state-ordered escalation targeting the movement that Abuja has branded as illegal.
The campaign saw the troops attacking Zakzaky's residence in the town of Zaria in Kaduna, afflicting him and his wife with serious injuries that reportedly caused the cleric to lose his left eye.
During the crackdown, the military also attacked the movement's members as they were holding religious processions, with the government alleging that the Muslims had blocked a convoy of the country's defense minister.
The violence led to the death of three of Zakzaky's sons and more than 300 of his followers.
However, on July 28, the high court in Nigeria's central state of Kaduna acquitted Sheikh Zakzaky and his wife, Mallimah Zeenat, of all the charges brought against them back in 2015 and ordered them released.
The trial originally commenced on May 15, 2018, but dragged on for over three years, when the high court — presided by Judge Gideon Kurada — eventually issued its final verdict.