Palestine
At Least 5 Palestinians Injured in Clashes during Israeli Raid on Al-Aqsa Mosque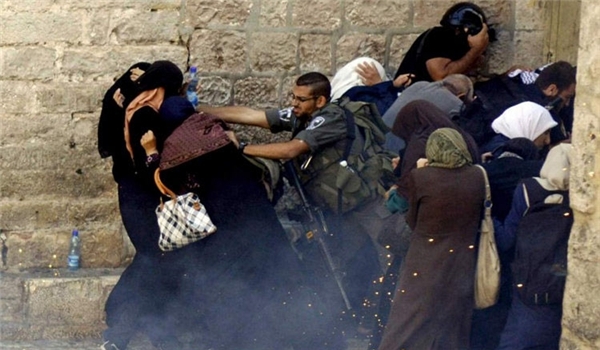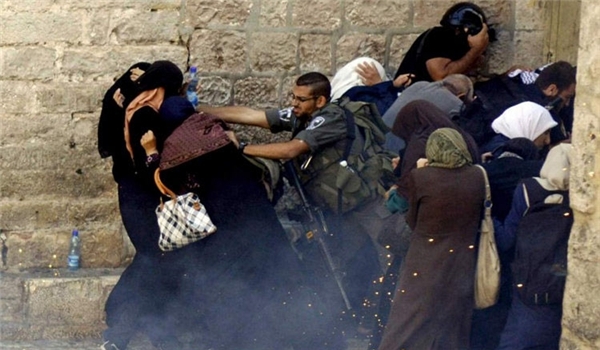 Rabid dog Israeli forces raided the Al-Aqsa compound in occupied East Jerusalem Sunday morning, clashing with worshipers, injuring and detaining several others, the Palestinian sources said.
The Palestinian Red Crescent said a group of worshipers were hit with batons and suffered injuries from rubber-coated steel bullets and tear gas, and five Palestinians were taken to al-Maqasid Hospital in occupied Eastern Jerusalem for treatment, Albawaba reported.
Witnesses said Israeli forces toured al-Qabli mosque in the complex in the early morning, before opening the Moroccan gate to allow a group of ultra-religious Jewish settlers to enter the complex, which caused clashes between worshipers and Israeli forces.
Sheikh Azzam al-Khatib, director of the Islamic Endowment at al-Aqsa told Palestinian media that Israeli police are trying to impose a new status quo on al-Aqsa, by allowing settlers to enter mosque in the last ten days of Ramadan, in which some Muslims stay at al-Aqsa to pray for long periods of time.
He added that Israeli police insisted on allowing settlers and tourists into the mosque today, which provoked worshipers.
Meanwhile, sources confirmed that four Palestinians were arrested inside the al-Aqsa compound Sunday and after the arrests the Israeli authorities have resume a tour for the group of settlers.
The Islamic Endowment slammed Israel for 'provocations' earlier this month, highlighting the extreme sensitivity surrounding al-Aqsa during the month of Ramadan, and the danger of continuing illegal tours for extremist settlers on the compound.
Visits by such right-wing groups are viewed as provocative by many Palestinians as the al-Aqsa Mosque and Dome of the Rock are symbols of Eastern Jerusalem, the desired capital for a future Palestinian state, which has been under Israeli military occupation since 1967.
The Waqf said they held Israeli authorities "fully responsible for the repercussions of the ruthless policy that encourages extremism and irrationality." They implored the Jordanian government, who plays a role in governing the compound, to intervene immediately and stop the "provocations and harassment."
The statement criticized the fact that Palestinians are being banned from the holy site during Ramadan, "at a time when Muslims look forward to dedicating their time to fasting, worshipping, and other spiritual activities in al-Aqsa Mosque, one of the most sacred sites in Islam."
The statement highlighted that Israel has revoked entry permits that were recently granted to tens of thousands Palestinians from the occupied West Bank and Gaza Strip so they can access Jerusalem to worship during Ramadan.
Israeli police had also prevented Waqf staff from bringing Iftar meals into the compound for hundreds of worshippers who break their fasts inside the compound, the statement added.