Iraq
Attacks across Iraq kill 13 people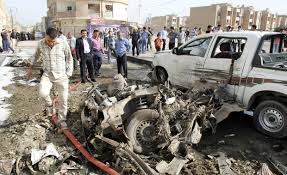 Separate terrorist attacks targeting security forces have left 13 people dead in Iraq.
Wednesday's deadliest attack took place in the town of Adeim, 100 kilometers (60 miles) north of the capital Baghdad, after armed men in two cars opened fire on a police checkpoint, killing eight police officers and injuring three others.
In another town near Baghdad, three people lost their lives in a bomb explosion.
Another bomb blast targeting a police station killed two officers in the town of Hit in the western province of Anbar.
Terrorist attacks have surged in Iraq in the past year, leaving thousands of people dead.
On May 13, more than 40 people were killed in similar attacks and acts of violence in Baghdad's Shia-majority areas.
The deadly attacks come as the country continues to count votes from its April 30 parliamentary election.
Militant groups, including the al-Qaeda-affiliated Islamic State of Iraq and the Levant (ISIL), which is notorious for its atrocities in neighboring Syria, are reportedly infiltrating into Iraq from Syria and Saudi Arabia.
Iraqi Prime Minister Nouri al-Maliki has said Saudi Arabia and Qatar are responsible for the security crisis and growing terrorism in his country, denouncing the Al Saud regime as a major supporter of global terrorism.
According to official figures, more than 1,000 people, mostly civilians, were killed and nearly 1,400 others injured in violent attacks across Iraq last month.