Iraq
Attacks kill 16 Iraqi security forces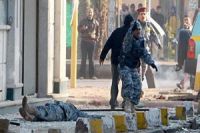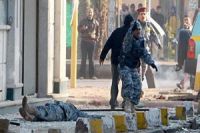 Iraqi police sources say at least 16 security forces have been killed in attacks on police and military checkpoints in Iraq's western province of al-Anbar.
On Tuesday, five security officers were killed after a bomb exploded near a police checkpoint in the town of Rutba, 360 km (225 miles) west of Baghdad.
Four police officers were also killed in a series of armed attacks against police checkpoints in the town, while in the provincial capital Ramadi, seven others were killed in clashes with armed militants, who targeted police and army checkpoints along a highway that links Baghdad to Jordan and Syria.
According to police sources, the attacks also left 35 Iraqi security forces injured.
No group has claimed responsibility for the attacks, but such incidents bear the hallmarks of al-Qaeda-linked militants in Iraq, which seek to destabilize the central government.
On Monday, five Iraqi policemen were killed and nine others wounded in coordinated bomb attacks, which involved two explosions and subsequent gunfire in the central city of Fallujah.
The incidents are the latest in a string of attacks across Iraq that have left about 6,000 people dead since the beginning of 2013.