India
Australian PM cancels Indonesia trip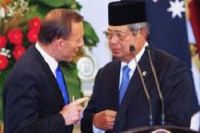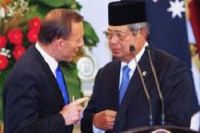 Australian Prime Minister Tony Abbott on Saturday cancelled a trip to Indonesia amid reports that an asylum seeker turn back operation was underway that could renew tensions between the neighbors.
AFP reported on Saturday,  Abbott's office confirmed he no longer intended to travel to Bali on Tuesday for a meeting with Indonesian president Susilo Bambang Yudhoyono but declined to go into the reasons for putting off the visit, which had been seen as a thawing of ties tested by recent rows over espionage and Australia's controversial refugee policies.
A spokesman for Abbott told AFP, "The prime minister was hoping to attend the Open Government Partnership conference in Bali next week at the invitation of His Excellency President Yudhoyono. The prime minister is grateful for the invitation."
Jakarta reacted furiously to the news, recalling its ambassador and halting cooperation in key areas including defence and people-smuggling.
Tensions were further inflamed by Canberra's military-led crackdown on asylum-seekers making their way to Australia by boat from Indonesia.
According to the Australian Broadcasting Corporation next week's fence-mending trip was cancelled due to a people-smuggling vessel being intercepted in the sea corridor between the two countries under the "Operation Sovereign Borders" policy, where boats are turned back to Indonesia when it is safe to do so.
Citing government sources, the ABC said there were fears the mission would be an "embarrassment" to Yudhoyono if Abbott's visit went ahead.
The Australian government refuses to confirm or disclose details of its refugee turn back operations for security reasons.
The opposition Greens and Labor parties urged Abbott to reveal his reasons for cancelling the trip, accusing him of further damaging ties with Jakarta by doing so.