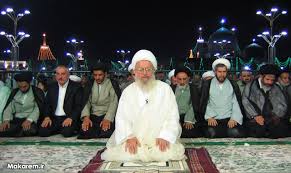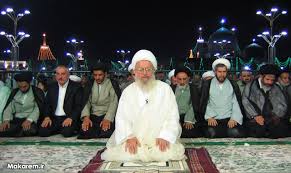 Top cleric Ayatollah Naser Makarem Shirazi in a visit with Secretory General of the Islamic Schools of Thoughts stressed the necessity of rapprochement and proximity in standing against Takfiri moves, reported Taqrib News Agency (TNA).
The cleric voiced hope on a better future ground for unity-related activities, stressing the main problems Muslims are mired in is the issue of Takfir.
Qom Seminary instructor beckoned to the Intl. Conference of "Extremist and Takfiri Movements from Islamic Clerics' viewpoint" in Qom and underscored this gathering is a religious event not a political one.
The religious cleric underscored the event will put accentuation on the Islamic Perspective not a specific Islamic sect, like Shite.
Elsewhere in his remarks, Ayatollah Naser Makarem Shirazi underscored the prime importance of respect to other takes and thoughts. To him the importance of civility in holding talks is a necessity.
Needless to say, the Grand Ayatollah stresses that Muslims should shun making any derogatory comments, urging them to treat with each other with great deference.
In his line, Muslims should bond to each other through resorting to the standing commonalities among Islamic denominations and sects.
In this visit, Secretary General of the Islamic Schools of Thoughts Ayatollah Mohsen Araki offered his suggestions for holding this congress.
To him, a committee should be established and connected to main Islamic cleric centers including Al-Azhar, Najaf Seminary and Qom Seminary so as to prove the studying the issued Fatwas.
Secretary General of the Islamic Schools of Thoughts also suggested that a Supreme Forum to be established with participation of religious cleric to discuss and reason and the standing problems in the World of Islam.