Africa
Az-Zahra(SA) Maulid, Rally held in Kano by the Islamic movement in Nigeria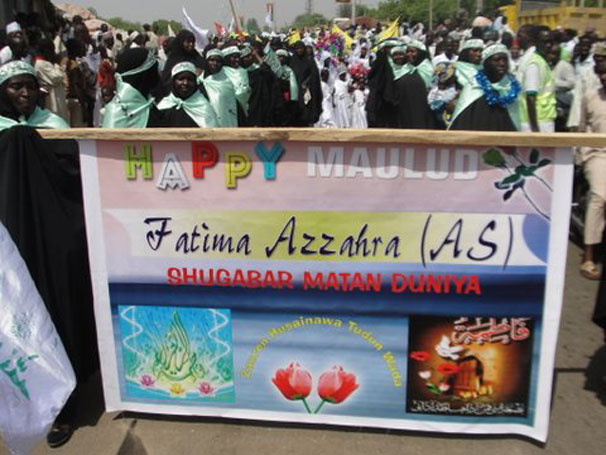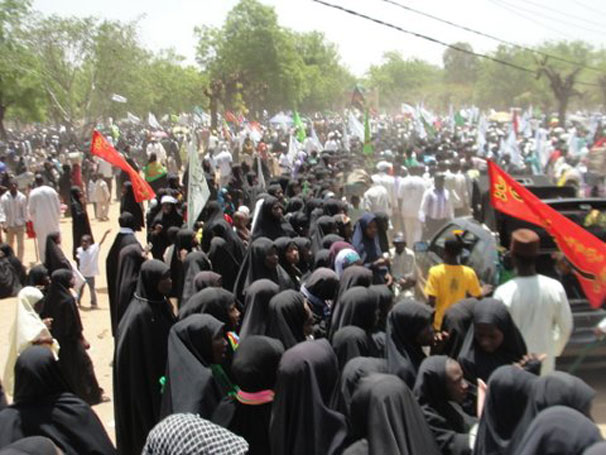 Just like in many cities in Nigeria, the Sisters forum in the Islamic movement in Nigeria in kano organized a mass rally to commemorate the birthday of Sayyidatul Nisa'il Alami, Sayyida Fatimatul Zahra (SA) on Sunday 5th May, 2013
The rally was marked with a matching procession and a speech as the procession ends. The procession march passed through the heart of kano city starting from the old city Friday Jumma'at Central mosque near the Emir's palace, Kofar Mata, Kantin Kwari and ended at Fagge Friday Jumma'at Mosque. In attendance were all people cutting across children from various school, Youths, Organizations and associations, units within the movements, forums etc. standing in rows of at least five persons stretching more than two kilometers long. They were dressed diligently in flying colors, holding flowers, pictures of our leaders, informative banners and organized loud speakers airing praises to Sayyida Zahra (SA), Noble Prophet (SWA) and Ahlul Bait (AS) and other religious songs.

In a speech by the special guest speaker at the occasion Malama Maimuna Abdullahi , extended her facilitation to our Noble Prophet (SWA), Imam Mahdi (AF), Ka'id Ayatullah Khamnaei (QS), the leader of the Islamic movement in Nigeria Shaikh Ibraheem Zakzaky (H) for yet seeing another maulidil Nisa'il Alamin (SA).
She extols the virtues of Sayyida Zahra (SA) as well as characters and actions worthy of emulations. Indeed Islam have reinstated the rightful place of women in our society and the great Sayyida Fatima (SA) is a leaving testimony of her role in spreading and upholding the message of Allah (T) sitting various examples by Malama Maimuna. For this she reitrated the setting aside of every 20th Jumadal Thani to be marked as Women's Day by the leader of the revolution Imam Ruhullah Khomeni (QS). Ka'id The Leader of Islamic Ummah and Oppressed People Imam Sayyed Ali Khamenei (QS), and Shaikh Ibraheem Zakzaky (H) here in Nigeria in their message at this year's maulud have reiterated and called on emulations of the exemplary life of Sayyida's Zahra (SA).
Mal Muhammad Kabir Al-Kanawy closed the rally with a closing prayer.