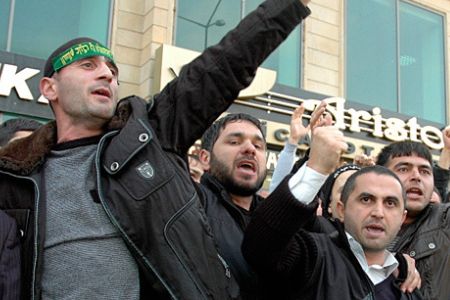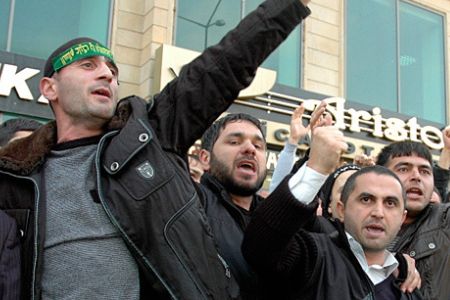 Hundreds of people have staged a demonstration in Azerbaijan's capital, calling on the government to overturn a decree banning Islamic hijab in high schools.
Following the Friday prayers, crowds of worshippers gathered in front of the city hall in Azerbaijan's second largest city of Ganja, shouting slogans against the un-Islamic law, a Press TV correspondent reported.
The peaceful demonstration was stopped by police and security forces, who resorted to force and detained more than 50 people.
On December 10, a similar protest was held in front of the Education Ministry building in Baku which was also met similarly with police violence.
Despite tight security measures, enraged Muslims held rallies in other cities across the former Soviet republic, including Jalilabad, Lankaran and Masally.
Under the pretext of imposing reintroduced Soviet-era uniforms to secondary school students this year, Azerbaijan has effectively barred hundreds of female students from attending school, sparking outrage in the predominantly Muslim country.
Muslim communities in Azerbaijan blame the growing secularism in the country on Tel Aviv and accuse Israel of being behind un-Islamic programs during the Shia mourning month of Muharram and the Muslim fasting month of Ramadan.
In mid-December, Israeli members of the Israel-Azerbaijan International Association hailed the opening of new synagogues, schools, Jewish cultural centers in Baku and other regions of Azerbaijan.
They said the large-scale projects on Jewish culture and education in Azerbaijan are supported by President Ilham Aliyev and first lady Mehriban Aliyeva, who heads the Heydar Aliyev Foundation.
Despite the fact that Azerbaijani Jews constitute less than one percent of the Azeri population, they have a representative in parliament.
Muslims constitute almost 98 percent of the population of Azerbaijan.