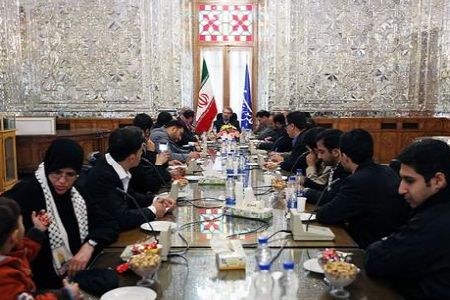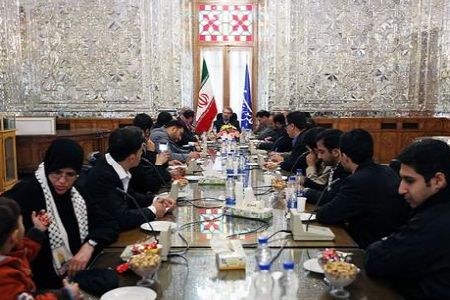 Iran's Majlis Speaker Ali Larijani has pledged the country's all-out support for Palestinians, describing "resistance" as the sole path for Palestine's liberation.

"The principle policy of the Islamic Republic of Iran is defending the rights of the oppressed people of Palestine in all arenas, and to that end, it spares no effort to help the Palestinian nation," Larijani said at a Saturday meeting in the Iranian capital city, Tehran, with a group of Palestinians, recently released from zionist israeli prisons.
The visiting Palestinian figures were among the 477 Palestinian prisoners who were released from the Israeli prisons in October in exchange for a captured israeli soldier.
Larijani insisted that defending the rights of the "oppressed Palestinian people" and liberating the occupied lands of Palestine are the great responsibility of all "freedom-seekers" in the world.
The senior Iranian lawmaker lauded the Palestinians' struggles against the israeli occupation, adding "the Palestine cause" is a "human aspiration" and "resistance" is the "only path" that leads the Palestinian nation to the achievement of their goals.
He also made reference to the growing wave of Islamic Awakening that has swept through the Arab world since early 2011, toppling three authoritarian regimes in Tunisia, Egypt and Libya so far.
"The recent wave of Islamic Awakening in the regional countries is a tremendous potential for asserting the rights of the oppressed people of Palestine and these developments will undoubtedly bring very positive and blissful results for the liberation of Palestine," Larijani said.
The Palestinian guests at the meeting recounted the israelis' inhumane treatments of Palestinian detainees at the israeli prisons and noted that the experience promoted their realization that israel is a fragile regime.
They also praised Iran's support for the cause of Palestine and reiterated that the Palestinian nation will never recognize israel and will continue resistance until the entire occupied territories are liberated.