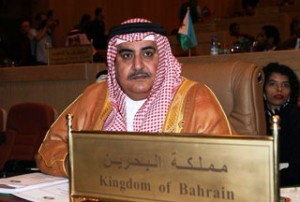 Bahrain's foreign minister says no one has the right to try to deprive Iran, a Nuclear Non-Proliferation Treaty signatory, of its right to use nuclear technology for peaceful and scientific purposes.
In a meeting with Iran's ambassador to Manama, Sheikh Khalid bin Ahmed Al Khalifa commented on the recent New York meeting between 'the six world powers' and their failure to reach a consensus on imposing further sanctions against Iran.
"We have always contended that Tehran has the right to use modern and up-to-date technologies. At the moment, Iran is recognized as a country with nuclear expertise," he said, according to a translation of his comments.
"From now on, no one can say that Iran can not use peaceful nuclear technology. Like all other countries, Iran has the right to benefit from the technology for peaceful and scientific purposes," he added.
On Saturday, the group of six world powers, also known as the P5+1 (permanent members of the Security Council plus Germany), came together in the US capital to discuss the possibility of new sanctions against the Islamic Republic.
The US and its European allies, were seeking to impose a new round of sanctions against Tehran, but the meeting ended with their disappointment as Russia and China reportedly opposed any new measures.
The sanctions were to target certain high-ranking officials from Iran's Islamic Revolution Guards Corps and some of its affiliated companies.